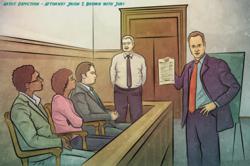 Wage theft has become an increasing problem.
New York, New York (PRWEB) March 30, 2013
A Class Action against Best Buy was filed this week in The Southern District of New York against Best Buy for alleged Wage & Hour Violations. (Docket # 7:13 CV 2080). In the complaint it is alleged that Best Buy forced its hourly employees to work off the clock and failed to pay them proper compensation for the off the clock hours. The complaint is limited to current and former hourly employees at the Mt. Vernon store located at 555 E Sandford Blvd, Mt. Vernon, NY. The action was commenced by The JTB Law Group, LLC, and they are investigating any similar complaints at other Best Buy locations.
The JTB Law Group, LLC is headed by Jason T. Brown, a former Special Agent and Legal Adviser with the FBI, who has a track record of multi-million dollar results in similar wage and hour class actions, although Mr. Brown cautions about drawing any similarity between past results and any outcome with the Best Buy litigation. "The case against Best Buy is in its infancy, and its best not to draw any conclusions until all the facts are in. Still, anyone with any relevant information about this case or any other wage and hour violation are encouraged to call our hotline at (800) 9100-LAW and speak with an attorney free of charge to educate about ones rights."
As a result of the sluggish economy, wage theft has become an increasing problem in New York passed more stringent laws to make sure employers comply with the law. Most notably, The New York Wage Theft Prevention Act (http://www.labor.ny.gov/workerprotection/laborstandards/employer/wage-theft-prevention-act.shtm) provides for penalties for failure to inform the employees about their rights to fair wage practices in the workplace.
According to Attorney Jason T. Brown, "The FLSA in conjunction with New York State Laws calls for pretty strict penalties, including double damages, the ability to reclaim damages for several years, attorney fees paid by the violator and even stricter anti-retaliation provisions." Although a complaint has been filed, Best Buy has not filed an answer yet. Anyone with relevant information is encouraged to call The JTB Law Group, LLC at (800) 9100-LAW.