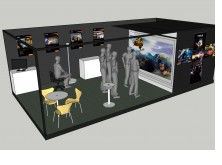 (PRWEB UK) 31 March 2013
Virtalis, a world-leading Virtual Reality (VR) Company, is taking its technology to the Hannover Messe this year where it will be on display on Stand E45 in Hall 7.
The booth will boast a Virtalis ActiveWall VR system, plus a Head Mounted Display-based ActiveSpace system. Not only will the Virtalis team run through some of their 3D demonstrations of engineering applications, but they will also be demonstrating how both the ActiveWall and ActiveSpace systems foster real-time collaboration for both engineering reviews and training applications.
"With this year's theme being "Integrated Industry", I persuaded my colleagues that we simply had to take our technology to Hannover this year!", explained Michaela Dierking, who heads up the Virtalis office in Germany. "VR is the ultimate integration and communication tool, in that it brings together designers, manufacturers, trainers, sales and marketing plus senior management and other key stakeholders, like suppliers, in one shared environment that places them all on an equal footing, thanks to the power of 3D. Hannover's lead theme signals the fair's key focus on the growing integration of all areas within industry. In these tough economic times, with companies operating in an increasingly global marketplace, any investment in machines, industrial equipment, or new products assumes a new level of importance. Companies have to get it right first time and they have to be able to prove their investment too. For these reasons, there has simply never been a better time to invest in VR technology, where important decisions can be tried out virtually in a no risk environment first."
Hannover Messe will also offer a sneak preview of applications for Virtalis' new software, Visionary Render. This is specialist software for visualisation and rendering of complex high-end CAD data to aid design, marketing and training and is set to make the use of VR and advanced visualisation techniques mainstream. Virtalis will be launching the software later this year.
The Virtalis ActiveWall and ActiveSpace systems foster real-time collaboration for both engineering reviews and training applications.The ActiveWall is an installed, immersive, interactive 3D visualisation system that is the industry benchmark for both price and performance. ActiveWall is Virtalis' best selling interactive 3D visualisation system and probably the best selling VR system in the world. The version on display at Hannover will feature a Christie Mirage WU14K-M projector and an ART TrackPack 4 with Flystick 2 tracking system.
The ActiveSpace is an interactive 3D visualisation system using a Polhemus-tracked NVIS Head Mounted Display that provides the ultimate immersive experience for an affordable price. ActiveSpace combines best in class technology and, like ActiveWall, is part of the Virtalis ActiveWorks family of 3D immersive visualisation solutions. An ActiveSpace can be linked with an ActiveWall to allow remote, collaborative design reviews and training exercises. As a stand-alone VR system, the principal advantage of ActiveSpace is that its users have the freedom and flexibility to move around in their virtual environment, totally unencumbered, whilst experiencing 360 degree views.
For more information visit http://www.virtalis.com