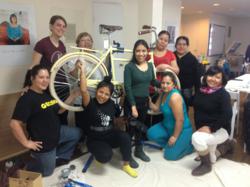 You can't expect people to be leaders in the bike movement if they don't have a bike
Brooklyn, NY (PRWEB) March 30, 2013
City Bike company Brooklyn Cruiser announced today that the company is partnering with WE Bike NYC, a program that gets women biking through free social rides, bicycle mechanics classes and training rides. By providing a safe space to ride, ask questions, and learn bicycle maintenance skills, WE Bike NYC creates a sustainable community extending far beyond just riding bikes.
Specifically, Brooklyn Cruiser is providing bikes to women in Corona, Queens through a WE Bike NYC partnership with Immigrant Movement International (IM International), the Queens Museum of Art (QMA) and the Partnership for a Healthier New York. Through this program, women are learning how to fix bikes, how to ride bikes, and how to lead others. At the end of the ten week class, the women will have each earned a Brooklyn Cruiser bicycle of their own. Most importantly, they are being empowered, motivated, and learning to mobilize their communities. Throughout the summer, with the support of WE Bike NYC, the women will lead rides and activities for the Corona community.
"You can't expect people to be leaders in the bike movement if they don't have a bike," said WE Bike NYC founder, Liz Jose. "This is a really incredible experience for me as a teacher, and for me as a person and it could not be happening without the help of Brooklyn Cruiser. To provide someone with a brand new bike is an incredibly empowering act. The donations from Brooklyn Cruiser were the tipping point between 'this is a great idea' and 'Oh wow! This is really going to happen!'" added Jose.
"We are honored to support this incredible and empowering effort," said Brooklyn Cruiser President Ryan Zagata. "It has been a pleasure to collaborate with WE Bike NYC and we are thrilled to participate in this program that is increasing excitement amongst women for riding bicycles as a transportation alternative," he added.
About Brooklyn Cruiser
Established in 2011, Brooklyn Cruiser mirrors the same iconic qualities of Brooklyn itself - accessibility, durability, and original style. Brooklyn Cruiser dutch bikes are available in single speed, three speed and seven speed models starting at $399. Bikes can be found at retail locations across the United States and in Canada or can be purchased online at http://www.brooklyncruiser.com. For more information, contact Ryan Zagata at info(at)brooklyncruiser(dot)com or call (800) 631-0630. Brooklyn Cruiser is based in Williamsburg, Brooklyn.