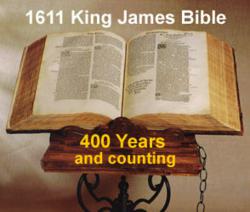 The Newest and Best Way to Access the Oldest Book
New York, NY (PRWEB) March 30, 2013
Alexander Scourby was the first to record the King James Bible on long play records in the 1950's. Recording quality was not up to the standards then as it is now. Over the years the company used available technology to upgrade the audio to improve the sound quality of the audio Bible recordings and has kept up with the technological curve over the years.
In 2012 new technology came out that enabled Litchfield to take that process to a whole new level and so the company embarked on a meticulous and thorough process of re-mastering the entire King James Bible recording done by Alexander Scourby in the 1950's. This process took 6 months to complete and it was just finished a few weeks ago. The newly re-mastered King James Bible has been uploaded to the Scourby.com site and will be used for downloads for the Bible MP3 Audio Bible and the Scourby Audio Bible App for iPhones and Android.
The re-mastering included sound enhancement of the audio narration that was able to get the recording nearly to match the audio quality of recordings done in modern day studios. The technicians were also able to eliminate any detection of background noise that may have bleeded over from past re-mastering's. The end result is a recording of the King James Bible by Alexander Scourby in the 1950's is nearly equal to sound recordings done today.
The Chicago Tribune wrote years ago that Alexander Scourby "has the greatest voice ever recorded". Although Alexander Scourby was the first person ever to record the King James Bible, his narration is still recognized as the very best narration of any Bible that was ever done. He is known as the "Voice of the Bible" by his peers. Now that greatest voice has just gotten a little greater with the newly re-mastered audio that was just completed.
Litchfield Associates has owned the Alexander Scourby narration of the King James Bible since 1989, having purchased all rights to them from the estate of Alexander Scourby. Litchfield Associates also owns the trade mark on the name of Alexander Scourby with regard to the King James Bible narrations. The company has license agreements with major distributors for physical product distribution of CD, MP3, DVD's and even cassettes. However, the company does not license out any rights for digital downloads. For users to get digital downloads of the Bible MP3 and the Audio Bible app for iPhones and Android mobile devices, users will have to go to Scourby.com and download them directly from the site or go to the iTunes store to download the iPhone app.
Users can view the Bible MP3 and the Scourby Audio Bible Apps at scourby.com.