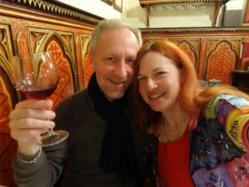 This is a gastro-spiritual tour - an itinerary to feed the body, mind & soul.
Las Vegas, Nevada (PRWEB) March 31, 2013
Spirit Quest Tours has announced a new first-class tour to Spain that will celebrate the spiritual significance of food and wine to this historic and romantic country. The company's "Wine, Tapas & Tales" tour of Madrid and the surrounding region, including La Mancha, the emerging food capital of the world, is scheduled for September 2013.
"Spain offers so much, and this tour has been designed to appeal to food and wine lovers who get to experience the historic wineries, tapas bars and food halls of Madrid. We will also have dinner in the oldest restaurant in the world," says Halle Eavelyn, co-founder of Spirit Quest Tours.
The food tour begins in Madrid, but guests can also add a pre-tour exploration of Barcelona to their tour package. Complete itineraries are available at http://www.spiritquesttours.com.
According to Eavelyn, "Wine, Tapas & Tales" will allow guests to sample from some of the world's most famous tapas bars, with nightly wine tastings and tapas. Guests also will learn to make Spanish meals in both Madrid and Barcelona and will experience truly local cuisine throughout their trip, often visiting several restaurants in a single meal.
"In addition to amazing food, Spain offers gorgeous architecture and incredible history, art and literature. We'll see the places that inspired Hemingway and Cervantes, and we'll walk the cobblestones of the historic Barrio de las Letros, an area that has been home to artists, writers, and creative figures throughout the last several centuries," she says.
In Madrid, guests will stay at the four-star Petit Palace Santa Barbara, a modern boutique hotel formerly the residence of a Marquis.
Spirit Quest Tours is known for providing international group travel opportunities that eliminate the rushed schedules of group travel. The company arranges for local guides and off-the-beaten-path opportunities, with plenty of time to explore independent of the group.
The tour will offer time for shopping in the famous markets and department stores, as well as guided historic tours to two of the world's oldest cities.
A day in Toledo will be spent sightseeing throughout this ancient European city, which boasts stunning architecture representing virtually every period in history, as well as religious significance for Jews, Muslims and Christians who lived in harmony here. Toledo is also famous as the home of the 16th century painter El Greco.
Another day will be spent in the ancient town that was birthplace to the legendary author of Don Quixote, Don Miguel Cervantes. The day in Alcala de Henares will include lunch at the highly rated Parador restaurant, which serves up Spanish dishes created by passionate chefs known for their delicious local cuisine, says Eavelyn.
The tour will wrap up with a farewell dinner at Botin, the oldest restaurant in the world. The establishment has been in continuous operation for more nearly 300 years, and boasts stunning local food that still justifies its reputation.
"This is a gastro-spiritual tour — an itinerary designed to feed the body, mind and soul," Eavelyn says.
Guests on this Spirit Quest Tour to Madrid can also elect to add a four-day extension to Barcelona onto their itinerary. Barcelona guests will spend four nights in the Hotel Roger de Lluria, a luxury hotel in the center of the modern city formerly home to Spanish royalty.
According to Eavelyn, the itinerary for the Barcelona extension offer plenty of time to enjoy the amenities of the hotel and to explore the city center and its incredible restaurants, shops, museums and historic sites. Guests will enjoy a cooking class, wine-tasting and an exploration of the life and work of Pablo Picasso as well as experiencing Flamenco dancing.
Travelers on the post-tour extension to Barcelona will take the high-speed AVE train from Madrid.
Pricing and detailed itineraries for the Madrid and Barcelona segments are available at spiritquesttours.com. The company can be reached at 877 406 5206.