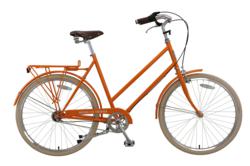 We are excited both for the release of our new models as well as our expansion into so many new markets
Brooklyn, NY (PRWEB) March 31, 2013
City bike company Brooklyn Cruiser announced today the release of its 2013 models including new single speed and seven speed models, which are based on their successful Driggs and Willow lines of urban bikes. To celebrate the launch, the company will be doing a bicycle giveaway of either a Driggs 3 or Willow 3 bicycle. Brooklyn Cruiser's vintage-inspired bikes combine the function, comfort, and style of a classic European bike with the stable and smooth ride of a hybrid bike.
Brooklyn Cruiser is introducing Driggs 7 and Willow 7 models to go along with their celebrated Driggs 3 and Willow 3 models. They have also brought back their initial Bedford model which will be re-introduced as a single speed free wheel model for $399. All models will include the company's signature double top tube, cream colored tires, and rear carrier racks.
"We are excited both for the release of our new models as well as our expansion into so many new markets," said Brooklyn Cruiser President, Ryan Zagata. "We decided that giving away one of our 2013 models would be a great way to express our gratitude to all of our fans who have supported us from the very beginning," he added.
About Brooklyn Cruiser
Established in 2011, Brooklyn Cruiser mirrors the same iconic qualities of Brooklyn itself - accessibility, durability, and original style. Brooklyn Cruiser urban bikes are available in single speed, three speed and seven speed models starting at $399. Bikes can be found at retail locations across the United States and in Canada or can be purchased online at http://www.brooklyncruiser.com. For more information, contact Ryan Zagata at info(at)brooklyncruiser(dot)com or call (800) 631-0630. Brooklyn Cruiser is based in Williamsburg, Brooklyn.