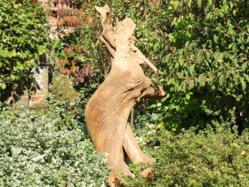 We are delighted to support our suppliers by helping them fund the replanting of their plantations by utilising what was previously considered a waste teak product.
Basingstoke, Hampshire (PRWEB UK) 31 March 2013
Following a recent procurement trip to Indonesia Chic Teak a leading supplier of outdoor garden furniture, has recently introduced a new range of weathered tree roots. Chic Teak who have traditionally supplied teak garden furniture such as dining tables and chairs are delighted to expand their teak products with these stylish teak sculptures.
Raw and untreated, these wizen and twisted roots are excavated by hand from harvested plantations in-preparation for new plants. Historically the wood was cleared and destroyed but has recently proved popular as a modern form of display piece that looks just as fitting inside or out.
These visually stunning teak sculptures are available in 4 sizes ranging from small which is approximately 20x150x160 cms to extra large large which are around 150x170x2000 cms. Each root is securely mounted on a teak block base which can be free standing, buried into the ground if outside or integrated into a more elaborate display installation.
Not only are these weathered teak roots truly beautiful and show nature at its best their use helps the Indonesian plantations themselves by funding an otherwise expensive removal process allowing the land to be replanted for future generations.
Since introducing a range of Objet d'art which includes these teak root sculptures, teak leaf sculptures and indoor and outdoor bronzes Chic teak has broadened its trade base from the landscape designers to interior designers who have been using both the teak roots and teak leafs to dramatic effect in the reception areas of businesses and hotels in London and other major cities in the UK.
Each tree root is unique having been taken from individual trees and can make a very interesting display if fixed within a garden boarder or or lit with some dramatic lighting. Not only are the root shapes themselves very appealing the shadows that they cast can create a considerable statement. Plus as they are made from natural wood they will last a lifetime and require no maintenance.
Since being on display many customers visiting Chic Teak see many different things within their distinctive shapes from weird to the bizarre but whatever people see within the twisted and gnarled wood everyone seems to agree they make delightful sculptures and add a natural peaceful quality to almost any environment.
Chic Teak Managing Partner, Robert Bowden, commented: "These ornate teak roots may be unusual and different from our standard stock but are delighted to support our Indonesia suppliers and help them fund the replanting of their plantations. With a little creativity we have successfully utilised what was previously considered a waste teak product and at the same provide an interesting focal point in both gardens and buildings."
For more information on Chic Teak and their bespoke tree benches, visit their website at http://www.chic-teak.co.uk/ or telephone 0845 390 5000.