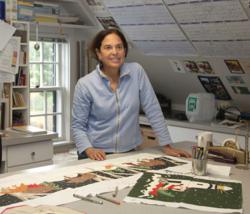 Pinterest is absolutely ideal for us to elaborate on the C4C lifestyle that inspires it!
Manchester Center, VT (PRWEB) March 31, 2013
Chandler 4 Corners is pleased to announce the launch of their new Pinterest site, C4CHome. Company president Henry Chandler spoke passionately about it, saying "We were excited to discover what a perfect place Pinterest is for us! Not only are we are able to showcase our pillows, rugs, and furniture, but beyond that, Pinterest is absolutely ideal for us to elaborate on the C4C lifestyle that inspires them!" The company is passionate about dogs, the outdoors, lakeside living, skiing, holidays, gardening, coastal themes, and much more. It is reflected in the names of their Pinterest boards: Seaside Dreams, Buds & Blooms, Cabin on the Lake, Everyone's Best Friend, We Love Mom, Mountainside Lodge, Bucket List: Spring, and Behind the Scenes. More will be added as seasons change or customers request a special focus, according to Chandler.
The two most popular categories are "Behind the Scenes," which offers some revealing backstage looks at the Chandler 4 Corners operations and photos of designer Laura Megroz in her studio. And "Bucket List: Spring," which has a list of recommended "Chandler-esque" activities for the season, such as "go on a picnic" and "take a rooftop yoga class." It also has intriguing ideas for creating and displaying your own bucket lists.
Pinterest is a pinboard-style photo sharing website that allows users to create and manage theme-based image collections such as events, interests, hobbies, and more. Users can browse other pinboards for inspiration, 're-pin' images to their own pinboards, or 'like' photos. The site launched in the spring of 2010. By March 2012, after two years of phenomenal growth, the site became the third most trafficked, after Facebook and Twitter, according to Experian Hitwise, which ranks website traffic.
Chandler 4 Corners has been offering handmade pillows, rugs, and accent furniture to discriminating buyers since 1991. Their popular handmade pillows and rugs have wool's famous durability and sustainability and come in glowing colors and timeless motifs by noted designer Laura Megroz. Visit online or call 1-800-239-5137 to request a catalog.