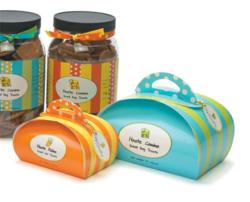 We know how important the health of pets is to our customers because it is very important to us as well.
Houston, TX (PRWEB) March 31, 2013
Keeping pets healthy and happy is the goal of most pet owners today. One way to ensure their health is by feeding them all natural pet foods and treats. Doggy In Wonderland has offered all natural dog food and all natural dog treats since they opened for business.
They are now announcing that they have recently added three new all natural dog treats to their selections. They also increased their all natural dog food selections and added to their all natural cat food product line. Among these additions are Good Dog All Natural Dog Treats which are crunchy chicken treats that come in beautiful packaging. Their next addition is Zuke's Z-Bones which are all natural grain free edible dental chews for dogs. These Z-Bones assist in keeping dogs' teeth and gums clean and their breath fresher. Other new items for Doggy In Wonderland include Bully Sticks that are odor free and Made in the USA. These bully sticks are 100% natural and rawhide free.
"We are very excited about these new all natural dog treats because we know how important the health of pets is to our customers because it is very important to us as well. All of these treats provide healthier ways to feed and reward our dogs. Our dogs love all of them," one managing partner expressed.
The company is currently holding a contest for a $100.00 gift certificate. Anyone who joins their newsletter before April 30, will be entered for a chance to win. The winner will be announced on April 30, 2013.
About DoggyInWonderland.com: DoggyinWonderland.com is a leading online pet boutique offering a wide array of pet accessories and other products for dogs and cats. This includes a full line-up of chic dog products such as stylish dog clothing, collars and leashes, pet furniture and dog beds, eco-friendly pet gear, healthy dog treats, dog toys, pet carriers, and a growing collection of cat products as well. Their goal is not only happy and healthy pets, but also 100% customer satisfaction. Call 866.280.1818 for more information, and see the full product range at DoggyinWonderland.com.