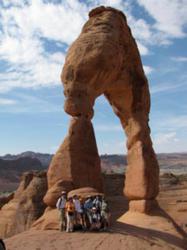 Views from the Green River and Gooseberry Canyon Overlooks were really special today. Looking over the edge we saw a nearly continuous sandstone bench, dubbed the White Rim, 1200 feet below us. –Guide Carol Simon, during last year's tour.
Salt Lake City, UT (PRWEB) March 31, 2013
Naturalist Journeys, a top nature and birding tour company, is proud to announce their upcoming October 5 – 11 Utah Hiking Active Nature Adventure tour. Guide Carol Simon says, "Arches and Canyonlands are two absolute gems of the national park system. Last year's participants commented that each day in red rock country was more spectacular than the last. The fantasyland of spires, arches, amphitheaters, balanced rocks and fins is not easily forgotten. The addition of rock art sites and high elevation spruce - fir forests rounds out our hiking experiences. Our partnership with Canyonlands Field Institute adds another layer of expertise and ensures that we see the best that southeastern Utah has to offer."
In Arches, tour participants find a fantasyland of sandstone formations; fins, amphitheaters, arches and balanced rocks in abundance. Many can be seen from the car or on short nature walks, while active groups will be thrilled to get deeper in; to walk over the fins and through the arches – there's nothing quite like it! The dramatic Windows section of the park holds the largest and most famous arches, with scattered, wind-sculpted pinyon pine and juniper trees. Sunset over red rock arches is sublime.
In Canyonlands National Park, tour participants learn geology and ecology of the park's several sections. The Island in the Sky section is known for its sweeping vistas and wild volcanic formations. Seemingly atop the world, one can walk around an entire crater and take in breathtaking views, 2,000 feet above the Colorado River. Processes of geologic erosion have sculpted rock and dunes and the colorful Needles section of Canyonlands National Park shows this off in detail. Walk between rock spires, fins, and massive canyon walls, and see fairy shrimp and other life in water-filled potholes.
Throughout the journey, local experts from the Canyonlands Field Institute, a non-profit group based in Moab, join the Utah hiking adventure tour to interpret the parks and help participants enjoy a grand array of hikes.
"Our National Park System is one of our country's greatest achievements," says Margaret Abbott, owner of Naturalist Journeys and a long-time guide. "We have been doing Utah trips since our company's inception, and there really is no other place like this on earth," Abbott continues.
Find full details of Naturalist Journeys Utah hiking Tour at: http://www.naturalistjourneys.com/jcalendar/jc_utahHIKE13.htm.
More about Utah's Arches and Canyonlands National Parks
Arches is one of the West's most impressive national parks, readily located just outside of Moab. It was made famous by Edward Abbey's book, Desert Solitaire. Today, in contrast to Abbey's time, a modern road takes us into this fantasyland of sandstone fins, balanced rocks, amphitheaters and arches. All are found in abundance, and many are easily accessible on nature trails. Canyonlands National Park is comprised of two distinct areas, the Needles District and Island in the Sky, and in a series of hikes participants will spend time in each of these areas.
More about Utah Hiking Tour October October 5-11, 2013:
This week long active nature and adventure tours begins and ends in Salt Lake City. Limited to 12 participants, this tour is based in Moab, Utah.
More about Naturalist Journeys:
Naturalist Journeys LLC, a top birding and nature tour company, offers specialty small group travel worldwide, from the western U.S. to Alaska, Hawaii and Florida, Costa Rica, Panama, safaris in Africa and more. Naturalist Journey's guided nature and birding tours feature expert guides with decades of experience in bird-watching, travel photography and other forms of eco-tourism. Naturalist Journeys also offers hiking and adventure travel tours in many national parks and wildlife reserves, including the Galapagos, Antarctica and the Amazon.