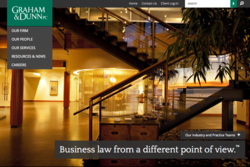 The Your Honor Awards recognizes creativity, execution, achievement and overall excellence in legal marketing.

Seattle, WA (PRWEB) March 30, 2013
Graham & Dunn is a prestigious business law firm located on Seattle's picturesque Central Waterfront pier, on the Elliott Bay shore. Representing some of the area's biggest corporate clients, the firm is comprised of attorneys who practice in labor and employment law, real estate law, and more.
Last fall, the Graham and Dunn website was nominated for the 2012 Your Honor Award. Based on the evaluation of the Legal Marketing Association's judges, Graham & Dunn is an award recipient in the website category. The Your Honor Awards recognizes creativity, execution, achievement and overall excellence in legal marketing.
Last summer, Graham and Dunn enlisted the help of Seattle web design firm, efelle media, to rebuild the law firm website to improve the user experience and back-end website management. efelle media worked in conjunction with their integrated partner, Eben Design, to complete the project.
Powered by the FusionCMS platform, the firm's website provides site visitors with detailed service listings, a news and events section, and comprehensive staff profiles (including automated, branded PDF generation for staff resumes). In addition to getting a stronger website content management system which allows the firm to manage and market their site with ease, Graham and Dunn got a full-branded custom website design (complete with rotating, full-width background imagery of their office and location) to match their tagline, "business law from a different point of view".
With more than 400 successfully completed custom website design and development projects under its belt, efelle media continues to work with a variety of business entities in dozens of industries, from start-ups, non-profits, and local small businesses to large national and international corporations. In addition to its law firm website platform, efelle media also offers other custom online marketing solutions including web design and website content management for ecommerce businesses, property managers, medical industry professionals, chambers of commerce, and more.
To learn more about efelle media, visit http://www.efellemedia.com.
To check out Graham & Dunn's new site, visit http://www.grahamdunn.com.
About efelle media
Founded in 2005, efelle media specializes in custom website design and development with an emphasis in organic search engine optimization. Over the past 8 years, efelle media has grown into a full, in-house team of web design and developers, internet marketing professionals, and production and support staff and continues to produce complete online marketing systems for clients nationwide from its Seattle offices.