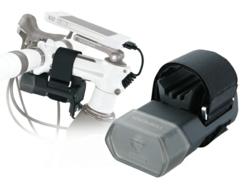 The Topeak Ridecase PowerPack changes the game and makes iPhone 5 into a truly useful bike compute
(PRWEB) March 31, 2013
The Topeak RideCase PowerPack boosts the battery life of an iPhone 5 by 300% for cycling based applications where extra battery is needed.
"iPhone doesn't last long in GPS mode but phone calls and other power intensive operations can rob iPhone 5 of battery juice", says Rusty Squire, President of the Heart Rate Watch Company. He adds, "The Topeak Ridecase PowerPack changes the game and makes iPhone 5 into a truly useful bike computer".
Squire's company has bundled the new battery together with the Topeak RideCase, PanoBike speed and cadence sensor and the Panobike heart rate monitor to create the iPhone 5 GPS bike computer which is fully integrated at all levels with the iPhone 5. "It's the best bike bundle on the market today for the iPhone 5 bar none", says Squire, who has been involved with iPhone bike computer accessories from the very beginning.
"What I really like about the Topeak RideCase PowerPack is that it mounts beneath the bike's stem so it doesn't create a huge stack on top like the Wahoo battery does", says Squire. He adds, "It is also much quicker to mount with the Velcro band it takes just a fraction of the time to install".
FOR THE LONG RUN
What the Topeak RideCase PowerPack does is change the complexion of being able to use iPhone 5 as a bike computer according to Squire. "It gives you the
battery life to use all of iPhone 5's functionality, including GPS, plus it insures that other uses won't make the battery expire before your ride is over", says Squire.
The Heart Rate Watch Company has several iPhone 5 bike bundles available including one without the Topeak RideCase PowerPack. "That model is simply for people that would like to see speed, distance, cadence and heart rate but have no intention of using GPS or mapping", says Squire.
All the new iPhone 5 bike computer models are now on display at the Heart Rate Watch Company just in time for Spring cycling season.