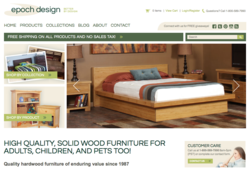 Redmond, WA (PRWEB) March 30, 2013
Local web design firm, efelle media, launches new ecommerce for Redmond, WA-based furniture manufacturer and distributor. Its FusionCMS website content management system powers Epoch by Design's online store, SEO improvement, blog, email newsletter marketing, and more.
Epoch by Design is a family-owned business and a provider of quality, affordable furniture – for children, adults, and even pets. The company emphasizes quality, ingenuity, and beauty that is built to last.
After 25 years in business, Epoch by Design needed a new website management system to handle their increasingly complex ecommerce and online marketing needs. The company enlisted the help of Seattle web design firm, efelle media, for business branding assistance and to provide a content management system and website hosting services. In addition to getting a branded, custom ecommerce website design, Epoch by Design also transitioned onto efelle media's website content management system, FusionCMS.
efelle media's web-based FusionCMS platform allows the ecommerce company to make website content changes, in real-time, and manage everything from customer accounts and inventory to email newsletter campaigns and blog posts. The platform streamlines administrative tasks, decreases website maintenance costs, and even builds long-term organic search engine optimization (SEO). The platform also allows for Quickbooks integration for ecommerce, so orders on Epoch by Design's site are automatically synced to the company's accounting software.
To check out Epoch by Design's new site, visit http://www.epochbydesign.com.
To learn more about efelle media, visit http://www.efellemedia.com.
About efelle media
With more than 400 successfully completed custom website design and development projects under its belt, efelle media specializes in custom website design and development with an emphasis in organic search engine optimization. Over the past 8 years, efelle media has grown into a full, in-house team of web design and developers, internet marketing professionals, and production and support staff and continues to provide complete online marketing systems for clients nationwide from its Seattle offices.
In addition to its web design and website content management system for ecommerce businesses, efelle media also offers other custom online marketing solutions for medical industry professionals, law firms, real estate industry professionals, chambers of commerce, and more.