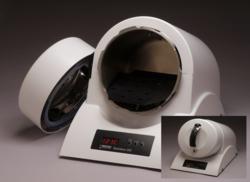 Los Angeles resident, Raul Alonso was diagnosed with AIDS after getting a tattoo. The artist did not use an autoclave.
Minneapolis, MN (PRWEB) March 31, 2013
The success of a nail salon business relies heavily on whether or not they use a steam autoclave. Although customers are paranoid of disease, there are still thousands of nail salons that have never even used one. Autoclaves use pressurized steam to sterilize instruments used in medical, dental, tattoo and nail salons. Improper sterilization and sanitation practices can spread cold and flu viruses, but this is just the tip of the ice burg. Dangerous infections like HIV/AIDS or MRSA, the "flesh-eating" disease can make someone a very unhappy customer.
Steam autoclaves are a necessity in the professions of nail and body art. Unfortunately, many of these small businesses have chosen not to invest in an autoclave due to the cost. Saving money by not buying a sterilizer poses a serious health risk to their clientele. However, new, affordable, FDA approved sterilizers like the Saniclave 200, have recently been introduced at more modest prices.
Recently, Singer and American Idol judge, Paula Abdul had her thumb nail surgically removed after she contracted a fungus from a nail salon. Since then, the celebrity has campaigned for increased sterilization and sanitary measures, including the encouragement of all nail salons to purchase and use autoclaves. "Ask your nail salon technician if they have an autoclave." states Isaac Erickson of Revolutionary Science. "If they don't have one, they don't use one."
"Many salons use Barbicide, UV light 'sterilizer' boxes, or other chemical solutions to disinfect their tools. [This method is] not totally effective at killing all bacteria and infection. The only solution that works completely is an autoclave, a machine used to sterilize equipment and supplies using high pressure and steam, which kills - infective organisms," explains Microbiologist and Hospital Administrator, Pavitra Sampath.
Tattoo and piercing shops should use sterilizers, too. PJ Skerrett of Harvard Medical School said "the shop should have an autoclave." Even "using sterilized water when tattoo ink must be diluted" is pertinent to operating a clean, professional facility.
Los Angeles resident, Raul Alonso was diagnosed with AIDS after getting a tattoo. The artist did not use an autoclave. "It was pretty horrible," Alonso says. "I had been so traumatized because I'm thinking, `OK they told me I'm gonna die in three to six months and now my family is not backing me up.' So it was a real horrible time."
Columnist Paul Carpenter of Pennsylvania Morning Call states "tattoo [shops] are notorious for transmitting the HIV virus, tuberculosis and MRSA, the "flesh-eating" disease." For this reason professional tattoo artists take sterilization very seriously.
Neil Manos of Smiley Tattoo in California asserts that "Cleanliness is the most important factor" He explains that he wants his "shop to be as clean and sterile as a doctor's office" and "tests its autoclave sterilization machine regularly"
"We have done all our tests, all our regulations, vaccinations. We do reporting once a month with our autoclave in the back, which is steam sterilization," Said Dustin Stewart of East Side Tattoo in Georgia. "Everything is hospital sterile here."
These types of practices are ideal, but are becoming more difficult as the economy worsens. "I know of no one who can afford to invest in an autoclave, so it is unlikely you will commonly see one in a shop." states a nail technician who wishes to remain unnamed. Sterilizers are a serious, but costly investment for small businesses.
"The FDA approved, American made Saniclave 200 is a product that was specifically designed to be affordable. It was designed for these types of businesses." adds Isaac Erickson of Revolutionary Science. "They must rely on proper sterilization to assure a professional and safe environment for their clientele."
For more information about the Saniclave 200, visit http://www.revsci.com