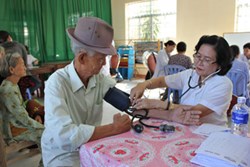 Through Family.my new healthcare portal, Malaysians can now find information which is relevant to their health and well-being in general.
Kuala Lumpur (PRWEB) March 31, 2013
Family.my is one of the most complete portals which are designed to provide information about health and general well-being among Malaysian families. There are many segments in Family.my that contain the most relevant and up-to-date information on all the issues that Malaysians are facing like relationships, diets, food, education and parenting, among others.
Through a recent research conducted by Family.my, it was found that Malaysians are more health conscious today. They are now more aware of the food they consume and the type of medicines that they need. Malaysians are exposed to countless types of supplements and they are interested to know what types of products are best for them. As Malaysia is home to a variety of cuisines and food, Malaysians are becoming more focused on what type of food is healthy and how to go about taking care of Malaysian diet and health.
Therefore, as part of the continuous improvement efforts of Family.my and to meet the needs of its members, the portal will be engaging in a large launching event of the healthcare segment where there will be roadshows in major shopping malls around the Klang Valley. The roadshows are aimed to create more awareness among Malaysians that they can always refer to Family.my for their healthcare needs.
The healthcare roadshows by Family.my will be held in MidValley Shopping Centre, 1Utama Shopping Centre and in IOI Mall, Puchong.
Medical professionals will be involved in offering medical checkups for Malaysians from all walks of life. They can engage in basic consultation with the experts and discuss about sugar levels, blood tests and blood pressure issues.
Through the new healthcare portal, Malaysians can now find information which is relevant to their health and well-being in general. Where this is concerned, there will be a complete reference guide to diabetes in Malaysia. Visitors to Family.my will find resources about causes of diabetes, symptoms, treatment methods and agencies to seek help from. This is because diabetes is among the top health-problems that Malaysian face today.
Family.my provides information about kidney diseases in Malaysia and all its related information as well. It was found in a study that Malaysians are usually ignorant when it comes to their kidneys as Malaysians are usually more concerned about the heart and blood pressure.
There will be a dedicated session to heart diseases where members can now read about the different types of problems faced in these situations. Where necessary, they will be able to read about cholesterol, the different types of cholesterol and ways to overcome problems related to cholesterol. Heart diseases and cholesterol problems in Malaysia are among the most common problems faced and this is the same situation in most parts of the world.
Health-related diseases are among the biggest concern when it comes to health. Apart from finding out about the different types of common killers, Malaysians can now read about the common ways to treat these problems. From medication to supplements, strategies and changing of lifestyle, members can take deterrent steps to enjoy a more fulfilling and healthier life.
There will be a segment on cancer in Malaysia and its risks as well. This will include information about cancer therapies and the various ways that this disease is treated. This is an important segment which will highlight all the information and resources about the different types of therapy used by medical professionals to treat cancer patients. Whether it is chemotherapy, drug use, cancer stem cells, cellular therapies, tumor immunotherapy or any other treatments, the information will discuss on issues like side effects, costing and many others.
Apart from diseases, the new healthcare portal in Family.my will be offering information about food supplements and nutrients that the body needs. This includes information about vitamins, minerals and CoQ10, which is one of the most popular health supplements that are needed by the human body. It is the acronym for Coenzyme Q10 which is found in every cell of the body. CoQ10 is an important agent for the body because it helps to produce energy that the body needs for growth and maintenance of cells. Foods like beef, soy oil, peanuts and such are known for supplying good levels of CoQ10 for the body. Visitors to Family.my will be able to read more about nutrients like CoQ10 which include which brand of manufacturers would be most suitable for their needs.