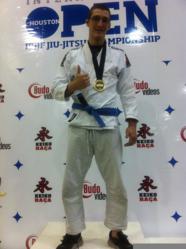 Naples, FL (PRWEB) March 31, 2013
Three competitors from Team Third Law Brazilian Jiu Jitsu traveled to California last week for the Pan American Jiu Jitsu Championship and brought home gold.
One of the important jiu jitsu tournaments in the world, the Pan American Championship is known for attracting the sports toughest competitors. It is the second of four major "Grand Slam" tournaments organized by the International Brazilian Jiu Jitsu Federation each year.
Team Third Law blue belts Joseph Ruggiero and Katy Torralbas won gold in their divisions, blue belt adult male middleweight and blue belt adult female lightweight. The school's head instructor Roberto Torralbas also won gold in his brown belt adult male heavyweight division.
Ruggiero faced six opponents on his way to the top of the medal podium, winning all of his matches either by submission or by outscoring his opponents. In the finals, he faced the same opponent who defeated him in the finals of the European Open in Portugal in January. This time, Ruggiero took the gold.
Later in the day, he also competed in the blue belt open weight class, taking bronze.
Katy Torralbas had four fights for her gold medal in her weight class. She also competed in the womens blue belt open weight class, also taking bronze.
Roberto Torralbas won four 8-minute matches, earning his gold medal. The Pan American Championship was the first major tournament Torralbas won back when he was a blue belt, in 2006, and last year he took silver at brown belt. An active competitor, Torralbas won his brown belt divisions at both No Gi Pan Ams and No Gi Worlds in 2012.
While winning Pan Ams is a major accomplishment for any jiu jitsu competitor, all three have already set their sights on the next big challenge: the World Championships at the end of May. They, and the school's other competitors, are already back on the mats continuing their intense training to ensure that they are well-prepared.
For more info about Team Third Law Brazilian Jiu Jitsu and Muay Thai, visit http://www.teamthirdlaw.com or call 239-628-3LAW (3529). Address: 5707 Shirley Street, Naples, FL 34109.