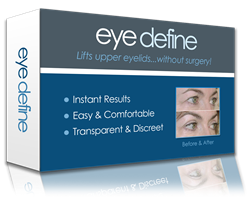 New York, New York (PRWEB) March 31, 2013
Eyedefine.com.au, is proud to announce the launch of it's all new eyelid lift discount, resulting in a price of $29.99
Anyone with drooping eyelids and deep-set eyes should see an improvement with Eye Define, and in many cases the improvement is dramatic. People with very small eyelids or eyelids that are very large (out-set or "prominent") may or may not see an improvement. This new discount allows any consumer to access, and purchase, Eye Define. Eye Define makes it possible to get an eye lift, without surgery. It's designed to be a blepharoplasty alternative, and is a type of eyelid tape.
Eye Define is a temporary fix for drooping eyelids, lasting as long as the lifts are on the eyelids. The product was designed for daily use to act as a substitute for surgery. Even eyelid surgery does not offer permanent results.
About EyeDefine
EyeDefine is a health and success company, dedicated to improving the health of women all over the world.