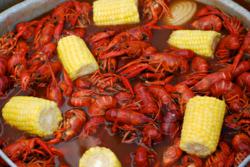 New Orleans, Louisiana (PRWEB) March 31, 2013
Ocean Canyon Properties (OCP), a privately owned membership resort and RV camping company, is excited to announce their annual Crawfish Festival and Boil.
Showcasing local dishes and music acts, the festival will take place Thursday, April 25th through Sunday, April 28th at Ocean Canyon Properties' Abita Springs Resort in Abita Springs, LA. Dishes served throughout the festival will include sausage and seafood jambalaya, seafood gumbo, and a grand finale crawfish boil on Saturday the 27th. Brunch will be served Sunday morning. Musical guests will include Eli Seals, The Wagner's, Night Train, and Lou Renshaw. The festival will be a fun place for people to get together to celebrate Louisiana's culture and heritage with food, music, and friends.
"This is going to be a great event, one of many that we organize for Ocean Canyon Properties' members throughout the year," said Peter Graffman, Executive Vice President of Ocean Canyon Properties.
Tickets for the crawfish boil on Saturday April 27th will be $15.00 in advance for adults and $7.00 for children ages 5-12. Tickets at the door will be $20.00 for adults and $10.00 for children 5-12. On Thursday, April 25th, seafood jambalaya will be served for $6.99 and sausage jambalaya will be served for $4.99. On Friday, April 26th, seafood gumbo will be served for $7.99 and sausage gumbo will be served for $5.99. For more information on tickets and membership opportunities at Abita Springs Resort, visit http://www.abitaspringsrvpark.com or call (985) 590-3926.
Surrounded by pine forests and just across Lake Pontchartrain from New Orleans in St. Tamanny Parish, Abita Springs Resort is one of eight resorts in the Ocean Canyon private membership resort system. Other resorts include Bear's Den Resort in Grove, OK, Styx River Resort in Robertsdale, AL, Millwood Landing Golf and RV Resort in Ashdown, AR, Tres Rios Resort in Glen Rose, TX, North Shore Resort in Greensboro, GA, Mountain Lakes Resort in Langston, AL and Texoma Shores Resort in Madill, OK.
About Ocean Canyon Properties
Ocean Canyon Properties is a growing system of privately owned, membership resorts that offer spacious RV campsites, comfortable vacation cabins, cottages and condos along with a wide variety of private resort amenities. With beautiful resort locations situated throughout the southern United States, OCP resorts provide the safe, secure and enjoyable recreational experience that so many families seek.
The Ocean Canyon Properties senior management has been directly involved in the membership camping resort industry on a national platform for over 30 years. This experience, combined with the rigorous standards of operation at both the resort and corporate levels ensure that the company operates securely, responsibly and continually provides the highest levels of service to its members, their guests and employees. Ocean Canyon is active in supporting community organizations that help children and families in the Southeast. You can find out more at their website at http://www.oceancanyon.com.