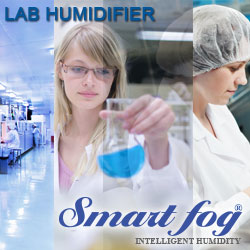 We at Smart Fog are happy to have provided yet another successful solution to a difficult issue in the clean room manufacturing process
Reno, NV (PRWEB) March 31, 2013
This week a Silicon Valley clean room manufacturer, specializing the manufacturing of miniature Capillary tubing resolved a significant production issue utilizing Smart Fog intelligent humidification solutions.
Until this year the facility in Silicon Valley never had a problem was relative humidity, with the weather changes this year the facility incurred many days of low relative humidity and their increased air filtration requirements dropped the relative humidity levels below 20%.
Smart Fog Inc installed a complete ES100 Humidifier system, and Smart Fog ZeroTDS water filtration to resolve this issue by increasing the relative humidity to 60% without introducing any particles and bacteria into the clean room environment.
Smart Fog ES100 humidifier system is an entirely closed loop system manufactured with the highest grade material and surgical grade stainless steel. The Smart Fog ZeroTDS water purification system ensures that the installed ES100 humidifiers eliminate any bacteria, particles and other pathogens. Initially the clean room staff believed that an increase to 40% relative humidity would solve the issue. Smart Fog staff found that a 60% relative humidity ensures 100% elimination of any production issues. Additionally even 65% was not acceptable as it caused other issues in the production. Smart Fog system precise control capabilities allowed a none fluctuating 60% relative humidity control throughout the production process.
Another significant benefit realized from the Smart Fog system in the Silicon Valley clean room facility was the immediate increase in productivity. Most of its workforce commute from areas averaging relative humidity levels of 70%. The low relative humidity in the clean room environment significantly decreased productivity and workers found that they get easily tired. The increase in the relative humidity immediately showed a dramatic increase in productivity.
Thus, the clean room facility achieved higher worker productivity and entirely eliminated all the issues with the manufacturing of the medical Capillary tubing by utilizing the Smart Fog ES100 and ZeroTDS systems.
About Smart Fog Inc
In business since 1980, Smart Fog Inc is the recognized world leader in industrial and commercial humidification, evaporative cooling, room disinfection, dust suppression and food safety industries. All products both standard and custom always ship at the industries shortest lead time of 5 to 7 business days. Specializing in complex and mission critical applications, Smart Fog Inc backs the end user with a full staff of scientists and engineers for the lifetime of the equipment. Smart Fog Inc manufactures, the most advanced in-duct and direct space industrial and commercial humidifiers in the world. Period. All products are MADE IN THE USA.
For more information, visit: http://www.smartfog.com