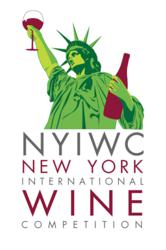 The New York International Wine Competition is one of the most respected international wine competition in the world. All the judges are real trade buyers judging the wine by its category and price" Adam Levy
(PRWEB) March 31, 2013
The New York International Wine Competition is excited to invite commercial wineries from around the world to submit their wines to participate in the 3rd Annual New York International Wine Competition ("NYIWC") taking place on May 5 to 6, 2013 at the 3 West Club located in the heart of New York City. Compared to other competitions this contest stands out from others because of its distinctive set of standards and one-of-a-kind judging process making it the quintessential competition for all wines.
Competition Overview:

The competition is open to any international winery whose products are commercially available in their country of origin.
All wines are judged by a group of true key trade targets – wine focused buyers, restaurant and bar sommeliers, retail stores owners/buyers, restaurant and bar owners, distributors and importers, etc. Unlike other competitions, these expert trade only judges and their opinions make an immediate impact and have the ability to directly influence sales and a brand's bottom line.
The panelists of trade volunteer judges are not involved for publicity or for their industry position as critics or members of the press. They are the decision makers, experts and willing supporters of the craft who have an authentic understanding of the business of buying and selling wine.
Each product category has a sub category for pricing. Therefore, a wine will be judged in its category along with other wines in the same price range. Each category will have its own pricing levels and details are listed on the submission form. For example, a $15 Cabernet will be judged against a $20 Cabernet and not a $45 Cabernet. The judges will also know the set retail price of the wine beforehand they taste and rate.
We are including a "Kosher Wine Section" which is a new section in the 2012 NYIWC. Kosher Wineries have the opportunity to submit their wines to be judged in the regular or the Kosher Wine section that utilizes the same wine categories in the competition. They will also have the opportunity to submit the same wine in both sections at a reduced submission rate. Trade buyers with experience in Kosher Wines will specifically be judging the Kosher Wines.
Wines will be rated on a set of criteria including appearance, aroma, taste, mouth-feel and finish.
Upon completion of the tastings, panelists will confer and decide which samples are award worthy.
Award levels are Double Gold, Gold, Silver, and Bronze.
Double Gold: Phenomenal Product for Buyers
Gold: Buyers "Love" It
Silver: Buyers "Like" It
Bronze: Buyers will purchase it
Double Gold award winners will be re-tasted by all panelists to establish which brands may be eligible to receive a 'Best of Category' endorsement in their pricing category.
While other recognized competitions prize up to 85% of entrants, the discerning panel and ethos of the NYIWC is to award the brands that are most deserving and not everyone that enters the competition. Last year, the NYIWC awarded less than 40% of its entrants.
Benefits and Visibility:
The NYIWC will offer brand exposure in the following ways:

All winning brands will be listed on the NYIWC site with their image and link to their website.
The results of the NYIWC will be promoted vigorously to trade and consumer media
There is no charge for winning brands to use their winning award icons.
Medal winners will be receiving a medal representing their win at no additional charge and the option to purchase stickers to showcase their medal win.
Media sponsors will be listing all awarded brands and profiling the top winners.
There will be a formal press release disseminated on behalf of the NYIWC announcing the winners within two weeks of the competition.
There will be a final Grand Tasting/Media/Consumer Event for the winners' after the competition to showcase the best of contest. There is no additional charge for the medal winners to participate in this highly visible event.
Pricing:
Each entry starts at $75 online and $85 by fax/email/mail. There is no limit on product entries by winery. Wineries may submit online with our technology partner http://www.enofileonline.com.
Shipping Information:
We are pleased to be working with Western Carriers. Western Carriers is one of the most respected wine & spirits distribution companies in the New York Area and the distribution point for most of the top importers and distributors in New York.
Western Carriers BLD#1-MB
Attn: Nest Egg/Joel Rubin/Acct #707
New York International Wine Competition
2220 91st
North Bergen, NJ 07047
Please feel free to contact our customs broker if you need brokerage assistance at evavoros(at)winecellarsltd(dot)com. They are working with Western Carriers.
Deadline for Entry:
The deadline for receipt of entry is April 30, 2013.
For more information:
Visit us http://www.nyiwinecompetition.com/
Contact information:
Adam Levy
v. 9173380163 x 1
info(at)nyiwinecompetition(dot)com