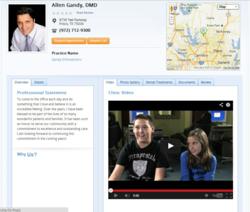 We want ChooseYourDentist.com to include information on all dental practices...why we were happy to welcome Gandy Orthodontics as a Frisco TX orthodontist
Frisco, TX (PRWEB) March 31, 2013
ChooseYourDentist.com, the Dallas-based website for matching dental patients and dentists, announces the addition of Frisco, TX orthodontist, Gandy Orthodontics, as one of the growing number of dental practices using its multi-tiered services to communicate with, and provide information to, prospective patients. Prior to its addition to ChooseYourDentist.com, patients looking for information on Gandy Orthodontics might have looked in the telephone book or searched the web for "Orthodontist Frisco TX" only to find it was hard to extract the information necessary to make an informed choice.
That uncertainty is eliminated by a visit to ChooseYourDentist.com. After entering the Frisco, TX zip code of 75034 a prospective patient can locate a microsite for Gandy Orthodontics, which offers 3D and digital orthodontics. Since they may not know other patients, the site includes helpful video testimonials from children and their parents offering insights into Dr. Gandy's personal care, the available technology, and price competitiveness of the practice. If they want to proceed to the next step, a link is provided to request a telephone call or an appointment.
"We want ChooseYourDentist.com to include information on all dental practices," said Feridoon Amini, an IT specialist as well as the site's co-founder. "That's why we were happy to welcome Gandy Orthodontics as a Frisco, TX orthodontist. We offer tips on how to choose an orthodontist, and then provide links to prospective orthodontists in the Frisco area. Having everything in one convenient online portal makes it so much easier for today's busy families to find the dental specialists they need to care for their children's teeth."
Gandy Orthodontics is known in Frisco, TX for its reputation of providing excellent results, a friendly and caring staff and doctor, and a comfortable environment. Led by Dr. Allen Gandy, the practice offers comprehensive orthodontic services for children and adults that include traditional metal braces as well as modern clear aligners and bracing systems. "Today's families are busy with school, sports and other activities," said Dr. Gandy. "They shouldn't spend a lot of time looking for an orthodontist. That's why I was happy to find ChooseYourDentist.com. Now anyone who wants to know more about our office can just visit their site without searching all over the internet."
The Frisco, TX orthodontist is located at 8756 Teel Parkway. The practice can also be reached at (972)712-9300 to schedule a complimentary consultation.
ChooseYourDentist.com will soon add an additional feature to allow patients to view local dentists' special offers. Further information on ChooseYourDentist.com may be found at http://www.ChooseYourDentist.com, by calling 1-888-I-CHOOSE, or by email at info(at)ChooseYourDentist(dot)com. You can also visit our blog site for discussions on dental treatment options for families.