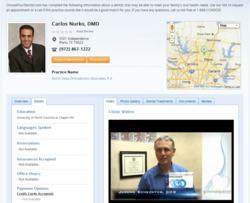 North Texas Orthodontics has dental innovations that minimize discomfort and we have innovations that minimize dissatisfaction. It's the perfect match for parents in Plano who need to quickly find an experienced orthodontist
Plano, Texas (PRWEB) March 31, 2013
ChooseYourDentist.com continues to expand its nationwide network of dental professionals with the addition of Plano, TX orthodontist, North Texas Orthodontics Associates. Having provided professional dental services for over thirty years, North Texas Orthodontics remains on the cutting edge of dental technology. The practice was looking for a modern and convenient way to introduce patients to its services when it found the ChooseYourDentist.com opportunity. Patients are no longer limited to just searching for "Orthodontist Plano TX," and can now rely on the dental matching site's up-to-the-minute technology.
When visiting ChooseYourDentist.com a patient enters the zip code of 75023 to search for orthodontists in the Plano, TX area. Many practices on the site, including North Texas Orthodontics Associates, have added a customized microsite to provide visitors with complete practice information. North Texas Orthodontics, for example, features a video which introduces the viewer to several patients and dentists, as well as some of its modern-day orthodontic technology. Since the practice recommends that patients begin seeing an orthodontist by age seven, many parents feel more comfortable knowing what services are available. If they like what they see, they can go to the next step by requesting a telephone call or setting up an appointment.
"I think practices which are open to the latest technology really appreciate all that we have programmed into the ChooseYourDentist.com site," said Feridoon Amini, the site's cofounder and an IT professional. "North Texas Orthodontics has dental innovations that minimize discomfort and we have innovations that minimize dissatisfaction. It's the perfect match for parents in Plano who need to quickly find an experienced orthodontist."
North Texas Orthodontics Associates treats both children and adults to correct dental and facial irregularities. Their services include 3D scans, Invisalign, In-Ovation R, In-Ovation C, Clear Braces, Metal Braces, and Lingual Braces and orthodontic solutions that can meet any individual orthodontic needs. Convenient hours are combined with interest-free finance plans. "We know that a beautiful smile can make a huge difference in health and self-esteem for an individual," said Dr. Carlos Nurko. "We're happy to use ChooseYourDentist.com to let as many people as possible know that they don't have to suffer with an embarrassing smile anymore."
The Plano, TX orthodontist is located at 5501 Independence and can also be reached at (972) 867-1222 to schedule a complimentary consultation. ChooseYourDentist.com continues to make its site even more accessible and will soon add a feature to allow patients to view local dentists' special offers. Further information on ChooseYourDentist.com may be found at http://www.ChooseYourDentist.com, by calling 1-888-I-CHOOSE, or by email at info(at)ChooseYourDentist(dot)com. You can also visit our blog for discussions on dental treatment options for families.