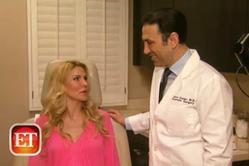 Los Angeles, California (PRWEB) March 31, 2013
According to a March 19, 2013 Time Magazine report, women in New York City and on Long Island are asking plastic surgeons to remake their noses in the image of Duchess of Cambridge Kate Middleton (Go to goo.gl/9FHbq). The average cost to replicate the Duchess' nose ranges between $7,000 and $11,000. The rhinoplasty procedure to mimic Kate's nose is mostly popular with women over the age of 28 that are seeking a natural look that is both regal and refined.
"I'm not at all surprised by the surge in requests for Kate Middleton noses", says Dr. Simon Ourian, Medical Director of Epione Beverly Hills. "It's always been the case that people want to replicate the images they see in magazines and on TV. At one time it was Angelina Jolie lips or Jennifer Aniston's hair."
The days of asking for the lips of Hollywood stars like Angeline Jolie appear to be numbered, as the Duchess has taken the place as the number one requested celebrity facial feature. Surgeons are even coining the phrase, "royal rhinoplasty" for those women seeking Kate's nose.
The royal nose job is gaining in popularity not only in the United States but also is now the most commonly requested celebrity facial feature in the U.K. Though something can be said of the fact that she is now a member of the royal family, Kate's nose is in fact a great shape and size for just about any face. Her popularity and high stature has led to the increased desire of women to possess her nose. Kate's nose is perfect for those that want a natural and not overwhelming look.
The popularity of plastic surgery has increased greatly over the past few years and it stands to reason that a popular, caring, and well-loved public figure like Kate Middleton would be so readily copied. Plastic surgeons across the globe are working to compile files of Kate Middleton photos to show patients.
"It's important for patients to realize that a facial feature that epitomizes a celebrity might not be one that suits them," concludes Dr. Ourian.
Dr. Ourian has been a pioneer in laser technology and non-invasive aesthetic procedures including Restylane, Juvéderm, Radiesse and Sculptra. These treatments are used for the correction or reversal of a variety of conditions such as acne, acne scars, skin discoloration, wrinkles, stretch marks, varicose veins, cellulite, and others. More information about rhinoplasty can be found on Epione's website.