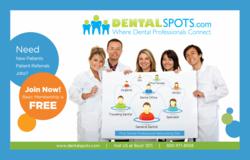 At DentalSpots.com we're constantly working to make it easier to fill dental jobs in Texas
Dallas, Texas (PRWEB) March 31, 2013
DentalSpots.com, the website where dental professionals connect, is making it easier than ever for dentists to fill dental jobs in Texas. With today's dentists bearing the stress of marketing a practice and performing administrative functions in addition to providing top patient care, finding dental job seekers who meet their practice's hiring criteria can be difficult. Many dentists today are looking for dental staff members who can not only provide patient care but can also educate patients on proper oral hygiene.
DentalSpots.com, the Dallas-based online portal for dental professionals, is constantly upgrading its site to help dentists run all aspects of their practice more efficiently. The site is building a nationwide database where dental employers and dental job seekers can connect, along with adding other networking capabilities.
Founder Feridoon Amini says that most dental employers that are looking to fill dental jobs in Texas end up spending a lot of time trying to post their open dental jobs in newspapers or online job sites. Then they waste a lot of time going through a pile of unqualified resumes trying to find somebody who is the perfect fit for their practice. "At DentalSpots.com we're constantly working to make it easier to fill dental jobs in Texas," said Amini. "Dental employers can use our site to post their listings for dental assistant jobs or dental hygienist jobs or search available resumes. They can even fill use our automated temporary dental staffing solution to find short-term help."
A recent addition to the online jobs portal is the ability to network with other dental professionals. Amini recommends that dentists use this network of dental professionals as part of the search for dental employees to ask for recommendations of dental job seekers who might be a perfect fit for their practice.
On another front, dentists can also use their DentalSpots.com dashboard to coordinate with a sister site, ChooseYourDentist.com, where patients and dentists connect. DentalSpots.com will soon be adding the ability to publish special offers right to a practice microsite which is hosted on ChooseYourDentist.com, to help in the search for more patients. Dentists will be able to use this feature to update prospective patients on special offers such as exams, x-rays, and teeth whitening.
DentalSpots.com is constantly working to make it easier to manage dental careers, fill dental jobs in Texas and connect with dental patients by building a premier site for dental professionals. Further information may be obtained by visiting http://www.dentalspots.com, connecting on Facebook, following @DentalSpots on Twitter, or calling 1-800-971-8008. You can also visit our blog site for discussions on dental employment topics.