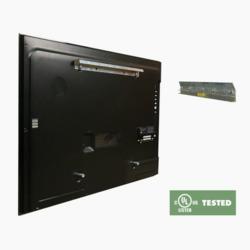 "I like this system because it is simple and inexpensive...It only takes about 10 minutes to install." Brian Durkin, Cool Tools
Las Vegas, NV March 31, 2013 (PRWEB) March 31, 2013
Hangman Products Simple Mount TV Hanger took home the Design and Innovation Showcase Award in the Home Audio-Video Accessories Category at the Consumer Electronics Showcase in Las Vegas in January.
The award highlights the standalone quality of Hangman's product. The Simple Mount TV Hanger is the world's fastest and easiest to install. The patented "No Stud Needed" hanging system allows you to mount your flat panel TV anywhere and in any material: drywall, wood, brick, concrete, cinder block, lath or plaster. In fact, Hangman's slogan is you can "hang your TV faster than you can unpack it."
The Simple Mount TV Hanger has been creating a buzz since its debut in 2011, when it was featured at the Consumer Electronics Show by DIY Networks Cool Tools. Unlike "cumbersome, goofy brackets that are sold to the average Joe," says Brian Durkin in the Cool Tools publication, Hangman's "is a dead simple mount composed of two interlocking aluminum strips." He continues, "I like this system because it is simple and inexpensive. It hangs the TV dead level and it won't 'drift' out of level when you mess with your cables. It also keeps the TV tight to the wall as the aluminum brackets are only about 1" thick. Finally, it only takes about 10 minutes to install."
CEPro also highlighted Hangman's Simple TV Mount Hanger and Cord Management System in its EXTRA segment last year as a valuable solution for "retrofit situations where running cable behind the wall is impossible, like concrete walls and fixed mounts for TVS."
You can find the Simple TV Mount Hanger, the lighter-weight Apartment TV Mount Hanger, and Hangman's entire innovative and celebrated hanging product line at hangmanproducts.com
About Hangman Products: Hangman Products creates hardware solutions for everyday needs. The multiple-patented Hangman Systems are carefully engineered to guarantee a safe and sturdy installation while promising to hang it level every time. Hangman's unique line of products ranges from Framing, TV/Stereo Mounts and Safety to Garage/Slat Wall and Organization. They are designed to meet the installation requirements for retailers, consumers and manufacturers. Hangman's ever-expanding line of products can handle even the most difficult projects.