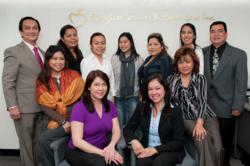 "Caregiver Services... Caring for Life !"
Thousand Oaks, California (PRWEB) March 31, 2013
Goebel Adult Community Center of Thousand Oaks just concluded a Senior vs. Teens billiard tournament for this year. For year 2013 held last March 20, the 6 Seniors representative headed by top scorer John Sekjousky and Joe with Dennis, Israel, Ken and Pat made a remarkable win against the Thousand Oaks teens as announced by Tournament Director Mark Williams, Goebel Recreation Coordinator Mike McAdam and Recreation Supervisor Anrea Koval.
The teens headed by top scorer Adam & Lenny with John, Michael, James & John rallied towards the middle of the tournament but the seniors were just as relentless and proficient in their game to win back the lost match last year. This traditional tournament games between the Seniors and the Teens have been widely participated and excitingly performed for the last 16 years.
The Goebel billiard committee representatives headed by Chairman George with members Gene Borghi, John Esson, Verne Hess, Donna, Israel and Randy Clarito have initiated a summer teens billiard training and coaching for teens every Tuesday evening. Members of the committee John Esson, Verne Hess and Randy Clarito have customized a teaching and coaching lessons that will best fit the teen participants for the day. John, Verne and Randy still believes that there should be a continuing coaching sessions for the teens in order to achieve the best results of billiard proficiency for the teens. This is likewise best supported by Goebel Senior Commission President Ron Scmidt and their Vice President Gene Borghi. The formation of the Goebel Pool room committee was conceptualized and supported by Conejo Recreation Park District Senior Manager Brenda Coleman.
Caregiver Services & Home Care Inc. applauds Goebel Adult Community Center's Seniors vs. Teens yearly billiard tournament. The Seniors and Teens tournament were granted some rewards and prizes by the Goebel Adult Community Center through Tournament Director Mark and Council on Aging Recreation Committee member and Caregiver Services Business Development & Training Director Randy Clarito contributed traveling bag prize for the top senior won by John Sekjousky and a brand new billiard cue stick with case for the top teen shooter for the night tied by Adam and Lenny. Goebel Thousand Oaks traditional yearly Seniors and Teens billiard tournament will live on and the love for the billiard game will continue to prosper and pass on to the next generation.