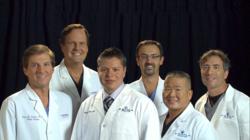 Since many women have never heard of procedures like the DIEP flap, we are hoping this forum will give them the opportunity to ask questions and make a more informed decision
San Antonio, TX (PRWEB) March 07, 2013
Breast reconstruction surgeons, Dr Gary Arishita and Dr Oscar Ochoa, of PRMA Plastic Surgery in San Antonio will answer your breast cancer reconstruction questions live on Friday, April 5th from 10am to 12pm central time.
With one in eight women being diagnosed with breast cancer every year, breast reconstruction procedures are on the rise. However, many women are not fully aware of all the reconstructive options they have.
"Many women believe that breast implants are the only way to go as far as reconstructive options," said Dr. Arishita. "Breast reconstruction has evolved into much more advanced techniques like the DIEP flap for example, which uses the patient's own skin and fat from the abdomen to create a natural feeling breast. Unlike traditional procedures like the TRAM flap, the DIEP flap preserves all the abdominal muscle."
With more than 70 percent of women unaware of their options for breast reconstruction after mastectomy and lumpectomy, the surgeons of PRMA are hoping that they can help raise awareness of the options that are available to women facing a breast cancer diagnosis.
"Since many women have never heard of procedures like the DIEP flap, we are hoping this forum will give them the opportunity to ask questions and make a more informed decision," said Dr. Arishita.
Federal law mandates that breast reconstruction after mastectomy be covered by insurance.
"Women need to be aware that they do have options. Whether they choose to have immediate breast reconstruction or have it years later, every woman should know her options," said Arishita.
PRMA has performed over 5,000 breast reconstructions on patients across the US. The center is one of a very few that specialize in advanced breast reconstruction techniques like the DIEP flap procedure.
Questions for the surgeons can be submitted on Facebook and Twitter or through our Google + Hangout.
About PRMA
PRMA Plastic Surgery in San Antonio, TX, specializes in advanced breast reconstruction using the patient's own tissue. Procedures offered include the DIEP flap, SIEA flap, GAP flap, TUG flap, fat grafting and Alloderm One-Step. Patients are routinely welcomed from across and outside the US. Connect with other breast cancer reconstruction patients on Facebook