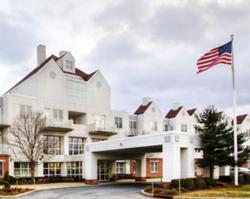 As more Baby Boomers reach retirement age, the questions surrounding what to do about long-term care become more apparent.
Goshen, NY (PRWEB) March 06, 2013
Dan Rand, Director of Strategic Growth of Better Homes and Gardens Rand Realty, announced today that his firm has been selected as the strategic marketing partner for units in Glen Arden, one of the Hudson Valley's premier Continuing Care Retirement Communities.
Recently named Business of the Year by the Goshen Chamber of Commerce, Glen Arden was founded in Goshen in 1996 as a not-for-profit life care community that offers seniors 62 and older independent living apartments with the availability of long-term care, if it's ever needed. Residents of Glen Arden have access to a wide range of social, educational and recreational programs with services tailored to a healthy, active retirement. Glen Arden is affiliated with Elant, Inc. (http://www.elant.org), a comprehensive health care system with a broad spectrum of services, and provides independent living, assisted living and skilled nursing all on one campus.
"As more Baby Boomers reach retirement age, the questions surrounding what to do about long-term care become more apparent. Sometimes the choices are difficult," explains Rand. "Some older couples choose to stay in their homes, but worry about their health and finances as they age. Some choose to move in with their children, but that can lead to an uncomfortable living situation for both parties. The high costs associated with long-term care insurance can quickly eat away at a family's nest egg. For these reasons, we are extremely excited to offer apartments at Glen Arden as another alternative for seniors planning their retirement years."
Glen Arden offers six different apartment styles ranging from 500 to 1,240 square feet and feature either one or two bedrooms. Entrance fees and monthly maintenance fees vary and are dependent on options chosen. Entrance fees can be up to 90% refundable, if desired. Residents have access to variety of amenities and services including an on-site beauty/barber service, library, business center, billiards room, arts and crafts studio and a woodshop. Other amenities include restaurant-style dining, an on-site bank, an instructor-led wellness class, a Curves® fitness center and an indoor heated swimming pool.
Residents of Continuing Care Retirement Communities may also qualify for generous tax advantages, and Glen Arden regularly hosts "lunch and learn" programs to educate seniors about retirement options. A calendar of dates for these programs may be found at http://www.glenardenny.com. Questions regarding apartment opportunities and options at Glen Arden can be answered by Mary Israelski, Associate Broker of Better Homes and Gardens Rand Realty. Mary can be reached by phone at 914-443-9023 or via email at mary(dot)israelski(at)randrealty(dot)com.
ABOUT GLEN ARDEN
Glen Arden, the Hudson Valley's premier Continuing Care Retirement Community, offers seniors 62 and older the perfect combination – independence with the assurance of quality health care if it's ever needed. Located in beautiful and historic Goshen, N.Y., Glen Arden offers housing choices for an active lifestyle and support services to help residents live comfortably and independently. For additional information, visit http://www.GlenArdenNY.com.
ABOUT BETTER HOMES AND GARDENS RAND REALTY
Better Homes and Gardens Real Estate - Rand Realty, founded in 1984, is the No. 1 real estate brokerage in the Greater Hudson Valley with over 25 offices serving Westchester, Rockland, Orange, Putnam and Dutchess counties in New York and Bergen and Passaic counties in New Jersey. Rand has more than 800 residential real estate sales associates, as well as a commercial real estate company (Rand Commercial Services), and the Hudson United Group providing residential mortgage lending, title services, and commercial and residential insurance. The companies can be found on the Internet at: http://www.randrealty.com, http://www.randcommercial.com, and http://www.hudsonunited.com. Rand Realty is also on Facebook and Twitter.