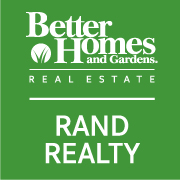 New City, NY (PRWEB) March 18, 2013
Better Homes and Gardens (BHG) Rand Realty announced today its annual awards for the company's highest-achieving sales associates.
Rand recognized more than 120 sales associates at its March 15 annual company-wide meeting and honored three of the highest performers in each of four regions – Westchester, Rockland, Orange and New Jersey.
The winners and their offices are:
Westchester County – Charlene Tobin, Rye; Chrissy Hazelton, Rye; Andrew Rogovic, Rye.
Rockland County – Margo Bohlin, New City; Terry May, New City; and Peggy Connolly, Pearl River. Bohlin was the #1 agent in the company.
Orange County – Marion Bruhns, Pine Bush; Theresa Budich, Central Valley; and Claudia Vaccaro, Warwick.
New Jersey – Attilio Adamo, Harrington Park; Eugene Lowe, Wayne; Joseph Simone, Wayne;
"We are extremely proud of our top performers and their commitment to excellence" said Matt Rand, managing partner of Better Homes and Gardens Rand Realty. "Our award winners are those that deliver results to clients year in and year out. Without their dedication to client oriented real estate and their commitment to the people in their communities, these achievements would not have been possible."
Better Homes and Gardens Rand Realty will honor their awards winners at an awards gala luncheon in May.