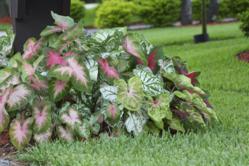 Today, many newer caladiums thrive in sun or filtered sun. This is good news for gardeners interested in the trend of growing tropical plants in the garden.
Lakewood, NJ (PRWEB) March 05, 2013
Caladiums, trendy tropical plants famous for their flamboyant foliage have long been known as strictly shade lovers. Today, many newer caladiums also now thrive in sun. This is good news for gardeners interested in the trend of growing tropical plants in the garden. Few plants hold a candle to caladiums for creating full-blown leafed-out swaths of color. They're a living paint box of pigment and pattern. Here are some tips from Hans Langeveld, the top gardening expert at Longfield-Gardens.com, for success with planting caladiums in sun or shade.

Most caladiums excel in bright filtered light or shaded areas, whether in containers or the garden. Today, some will readily handle more direct sun if kept well-watered, these include 'Florida Sweetheart' and 'Gingerland'.
As a tool for exterior décor, caladiums are versatile and easy to maintain. Caladiums generally grow one to three feet tall. The plants are dense with large heart-shaped leaves that move gracefully in summer air, nodding on sturdy stems. This lushness works beautifully in mass plantings, especially when planted in dense borders along hard-edged landscapes, sidewalks or other hardscaping.
For overhung or dimly lit spots, consider white-tinged caladiums to infuse the light with brightness. A mass planting of white-and-green caladiums like 'Aaron' or 'Candidum' can brighten up a shady area.
It's time to plant caladium bulbs when frosts are long gone and garden soil is warm to the hand, about the same time as planting out tomatoes, says Langeveld. They can be started even earlier if planting in containers, as potting soil will be warmer. Warm moist soil is critical, he says, as these are tender plants native to tropical areas where frost never happens.
At season's end, in warm zones with no frost, caladiums to carry on in the garden. In colder areas, treat tender caladium bulbs as annuals or save them indoors to grow again the following season.
For bulbs growing in garden beds, lift the bulbs, let dry, then store at room temperature in closed containers of peat or vermiculite.
To overwinter potted plants indoors, bring the pots inside, as is. Caladiums, are best stored dry in their pots. Completely stop watering these until it's time to take them outdoors again next season. In early summer, move them outdoors again for the season.