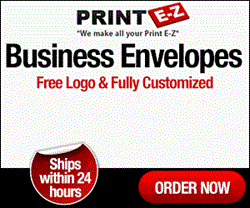 The company has no plans to let off these efforts to launch new products in the future.
Monroe, NY (PRWEB) April 23, 2013
Business envelopes online retailer, PrintEZ has yet again surprised the printing market with additional products in the custom and standard envelopes category. The move continues to surprise industry watchers and competition because it was expected that the company will abate the expansion after a large number of products that were launched recently. CEO Morris Rose however states, "The company has no plans to let off these efforts to launch new products in the future. There are still a large number of products that customers need and the company is constantly trying to arrive at the need gaps that exist between customer needs and the product portfolio that is available."
The main categories in business envelopes that the company offers now include #6 envelopes, #8 envelopes, #9 envelopes, #10 envelopes, self seal envelopes, return envelopes and specialty envelopes among others. While the numbered options conform to specific dimensions that corporate offices need, the self seal envelopes and return envelopes provide a high level of convenience and comfort to the buyers. The latest addition to business envelopes has been in the specialty sub category.
Whether a client is looking for HCFA imprinted envelopes, drug envelopes, payroll envelopes, ADA claim form envelopes, auto repair envelopes or roundtrip envelopes, each of these can be found on the PrintEZ site. "There are many industries out there and the company is dedicated to design and create offerings that are customized to the needs of different people and industries."
In addition to these specialty business envelopes, there are also custom envelope options that have been added. The custom envelopes allow clients to create unique designs in order to cater to specific requirements. The designing can also be done at the PrintE-Z.com offices since the company employs many professional and efficient designers for the products and client logos.
When ordering a custom envelope, a client has the option of sketching a specific envelope design and sending it off to PrintEZ. Printing work starts only after approvals are sought. For clients who want to design envelopes, the process has been made simple by providing templates and base designed that can be customized. Check out at Print EZ
Inside sources also state that additional products is not the only thing that the company is depending on to attract customers from various industries. There is a 10 percent discount on all new customers for business envelopes. Shipping is also free for these first time customers taking the total cost to an all new discounted level.
Prompt delivery, voluntary information of expected delivery times, high quality paper and ink and a wide range of offerings has made this company a favored one among many businesses. Based on the exceptional experience that business clients have had, many are also ordering personal checks, holiday cards, wedding cards and food gifts for personal use. The company is mindful of servicing individual companies in as professional a manner as corporate clients.
There is no doubt that competition has already started noticing the manner in which the company is proceeding. This is an obvious sign that the company is moving in the right direction in terms of the new strategy and the manner in which it is being implemented.
To read more about Business Envelopes click here http://www.printez.com/business-envelopes.html.
To read more about Window Envelopes click here http://www.printez.com/window-envelopes.html.
Get more information about how Print EZ offers and new launches on Business Envelopes at or call the company at 1-888-246-0635.
And get regular updates of new offers and deals here.
Print EZ
4 N Main St.
Monroe, NY 10950
(845) 782-5832