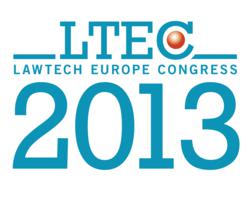 The feedback from our delegates confirmed that this event was unique in the CEE region in terms of magnitude and depth of topics covered.
Prague, Czech Republic (PRWEB) April 08, 2013
Following on from last year's very successful one-day event, the LawTech Europe Congress 2013 will cover two whole days, 21st and 22nd October, and will introduce some new features that bring even more value to its delegates.
Last year's LawTech Europe Congress attracted more than 650 delegates from all around the world, including the Czech Republic (66% of attendees), United Kingdom, Germany, Austria, Sweden, the USA, Israel, Russia, United Arab Emirates, and many other countries. The topics of the congress covered a wide range of areas, such as the influence of electronically saved information on the level of bribery and corruption, on-line dispute resolution ("ODR"), the hottest news in the fields of cloud computing, electronic evidence, legal issues and new methods of forensic investigation, and digital evidence.
This year, the Congress's main focus will be on electronic evidence, forensic investigation, and legal technology. In addition to expanding the Congress to two days and offering a full programme of presentations, seminars, and discussion panels, the organizer will put a new emphasis on practical hands-on education. All exhibitors are encouraged to make as many demonstrations and walk-throughs as possible to highlight the practical uses of their new technologies and processes to delegates. Furthermore, pre-arranged corporate exchange sessions will be introduced, where attendees and sponsors can meet with decision-making and highly influential delegates on a one-to-one basis.
Frederick Gyebi-Ababio, Managing Director of E-Discovery, commented on the next edition of LawTech Europe Congress:
"We are very proud of the huge success of the first ever LawTech Europe Congress, which, we believe, laid the foundations for a tradition of well-established and recognized congresses that will keep on attracting the attention of some of the world's greatest experts on electronic evidence and legal technologies. The feedback from our delegates confirmed that this event was unique in the CEE region in terms of magnitude and depth of topics covered. We are also very happy that personalities such as Richard Susskind and Pavel Zeman agreed to participate last year and we will do our best to deliver another group of first-class speakers and solution providers in 2013."
In 2012, LawTech Europe delegates came from many diverse sectors, including law, academia, IT, information security, energy, media, the public sector, retail, finance, and telecoms. This year, the organizers plan to again set the Congress agenda so that it will be of interest to a wide range of professions, from lawyers to court experts, police, national security agents, auditors, prosecutors, IT experts, and C-level executives.
For detailed information about the LawTech Europe Congress, please visit http://www.lawtecheuropecongress.com. The content for LawTech Europe Congress 2013 will be available on our website starting this 22nd April, 2013. Registration for LawTech Europe Congress 2013 will also be open on the same day.
For more information, please contact:
E-Discovery Europe s.r.o
Frederick Gyebi-Ababio
Tel: +420 734 595 268
Email: fred(at)e-discovery-europe(dot)com
Media Agency:
JWA Prague s.r.o.
Zdenka Haraslinova
Tel: +420 242 454 740
Email: zdenka(at)jwa(dot)cz
Information for Editors
E-Discovery Europe is a forward-thinking technology company that provides services in information security and legal technologies. These services include information security consulting and outsourcing, dispute resolution support, e-crime training for state prosecutors and judges, as well as being the main organizer for LawTech Europe Congress, Central and Eastern Europe's biggest and most far-reaching conference and exhibition on e-discovery and forensic investigations. The aim of the conference is to facilitate a forum in which the difficult issues around the collection and processing of electronic evidence in civil and criminal legal proceedings can be discussed. It also aims to showcase some of the latest technologies that assist in legal dispute resolutions and criminal investigations. The Czech entity, E-Discovery Europe was established in Prague in July 2011.