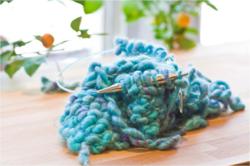 These workshop leaders bring an impressive array of talent and experience to the weekend event.
New Paltz, NY (PRWEB) April 16, 2013
Mohonk Mountain House is preparing for its "Knit In Style" weekend, taking place April 5-7, 2013. The historic Hudson Valley resort will welcome workshop leaders from around the country and abroad—even the most expert knitter will have something to learn. Attendees will have the chance to start a new project, collaborate and network with other knitters, or, if new to the practice, learn the foundations.
Knitters of all levels will discover customized programs for their skill set. Programs cover topics including proper stretching and restoring of yarn, as well as the craft behind classic Icelandic Lopapeysa sweater knitting. Guests can bring their current project to "Knitting Study Hall" for some quality time with new friends. Knitwear designer Shirley Paden gives the keynote address on Saturday, April 4, discussing her career highlights and business strategy.
Other program leaders include Assaf and Tavy Ronen, co-owners of The Yarn Company in New York City; Ragga Eiríksdóttir, founder of popular knitting site knittingiceland.is; Spin City NYC founder Donna Panner; renowned designers Irina Poludnenko and Stephen West, and others.
"These workshop leaders bring an impressive array of talent and experience to the weekend event," said Nina Smiley, Director of Marketing at Mohonk Mountain House. "Attendees will find a warm community ready to bond over a shared love of the knitting art."
Special weekend rates include charming accommodations and three delicious meals daily. Rates start at $233 per person per night in double occupancy, and $298 per night for solo travelers (tax and a 12% gratuity additional). Guests must stay a minimum of two nights to secure these rates, which include breakfast and lunch buffets, a delicious dinner, afternoon tea and cookies, and many onsite activities including swimming in the indoor heated swimming pool with underwater sound system. Workshop fees range from $10 - $120.
Attendees should pre-register for workshops when making reservations and should mention "Knit In Style" when calling. Guests should provide their own needles, and one self-service winder is available onsite for use. However, no ball-winding services will be offered during the weekend.
Learn more about the 'Knit in Style' weekend. To make a reservation today, call 888.212.3057.
About Mohonk Mountain House:
Founded in 1869, the Mohonk Mountain House sits amidst 40,000 acres of pristine wilderness on the banks of Mohonk Lake in New Paltz, NY. Just 90 miles north of New York City, this 259-room property is a getaway for couples and families alike, offering a wide array of activities ranging from hiking to yoga to ice-skating. With classic accommodations, an award-winning Spa – just named the Number One Resort Spa in the United States by Condé Nast Traveler, and a stunning location, Mohonk Mountain House is the ideal destination for vacations year-round.