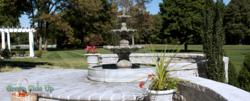 Above all, your assurance that your outdoor renovations will add and retain value is the Green Side Up Guarantee. As an ICPI-Certified contractor, we guarantee our paver hardscapes for their craftsmanship — for as long as you live at your home.
New York, NY (PRWEB) April 19, 2013
Green Side Up Landscaping was awarded the "Best of the Best" designation for excellence by Follow Media Consulting, Inc. in the category of Landscape Richmond VA. This award signifies the continued commitment and dedication of the areas best in lawn and outdoor renovations.
Green Side Up is a full service landscaping contractor locally owned by Craig Attkisson (B.S. Turf Grass, Horticulture), Bill Gallagher (A.S. Agronomy) and Jim Gallagher (A.S. Agronomy). These three owners all have once vision: to create enduring outdoor living spaces in balance with nature that surround the senses with seasons of colorful low-maintenance beauty.
Green Side Up has three main lawn service: landscaping, hardscapes and maintenance. They have extensive experience with native plants, low-maintenance foliage, and with these therapeutic qualities of color ranges, Green Side Up will ensure that the client's vision of the land comes to life before their eyes year-round.
Whether the needs are new landscaping, creating beautiful hardscapes or simply maintaining the yard and gardens Green Side Up can help to improve the look and value of a property. They can help with drainage problems and regrading to protect a home's foundation or build an outdoor retreat that clients will want to share with friends and family for years to come. Call them today at 804-514-4610 to discuss landscaping needs and dreams. You can also visit their website at http://www.gsulandscaping.com/ for more details on their service.
About Follow Media Consulting, Inc.
Named one of the best SEO companies by Jonas Marketing, Follow Media Consulting, Inc. is a rapidly growing worldwide firm of SEO, Social Media, and Mobile Marketing Professionals. Follow Media Consulting, Inc. headquarters is located in Richmond, VA. However, our professional team is networked across the world, with regional offices across the United States, in the United Kingdom, Canada, Australia, France, South Africa, the Philippines, and India.