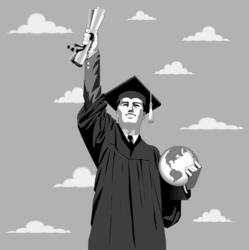 It's inspiring to hear some of these stories, it really adjusts your perspective...
Orange, CA (PRWEB) April 25, 2013
Senior year in high school is a time in history that, for many, elicits fond memories of football games, best friends, and senior prom. For some students in the City of Orange, senior year will simply mean one thing, they survived.
The Orange Grove Lodge in Orange, California will be holding their annual Public School Awareness Night on April 30th, 2013. One female and one male student, along with one teacher from each of Orange Unified School District's five high schools, will be honored for their achievements.
"It's inspiring to hear some of these stories, it really adjusts your perspective and makes you want to support these kids as they strive to make something of themselves through education. Some of these young men and women have had to bare unspeakable things on a daily basis, yet still get straight A's. It only makes you wonder how many more are in our schools that need our support," says Chris Apodaca, Assistant Director of Branch Development from Broadview Mortgage, a sponsor for this year's event.
Apodaca will be joining other small businesses and private individuals in sponsoring the event which will provide college scholarships to the students as they work their way through higher education. One key requirement being that every year the student must show proof of enrollment and a satisfactory grade point average in order to receive the funds.
"Not many of us have had to come home from school one day to find that our parents have abandoned us. Some of these students have literally been kicked out by their parents and been resilient enough to stay in school. These kids want to learn, want to succeed, why would we not want to contribute to their success?" says Apodaca who helped organize the event.
There are five high schools in Orange Unified School District: Orange High, Villa Park High, El Modena High, Richland High, and Canyon High. The principals will be accompanying the students, along with their friends and family, to the event that takes place at 6:30pm on April 30th.
"The event is called 'Public School Awareness Night' because we want to create awareness in the community of not only the quality students we have in Orange but also the quality teachers." says Apodaca.
One teacher from each high school will be honored at the event as nominated by their peers at the school. "No one knows a teacher better than their colleagues in the break room during lunch," says Apodaca "which means that if you're nominated for the award it's because you've been found worthy among your fellow teachers."
The event is open to the public though seating is limited due to space restraints.
For more information feel free to contact the author at 714-244-7368 or via email at chris.apodaca(at)broadviewmortgage(dot)com