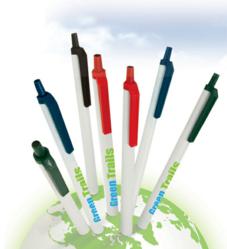 Seattle, WA (PRWEB) April 10, 2013
In an effort to provide its customers with exciting promotional products that are in line with other green initiatives, 1234 PENS, the number one source of promotional pens in North America, has added a number of eco-friendly promotional pens to its inventory. 1234 PENS has worked with thousands of companies to help reach their marketing and branding potential. Now, companies can give out promotional pens with the peace of mind that they are simultaneously caring for the environment.
Throughout its over 35-year history, 1234 PENS has always worked to actively address the changing needs of its customers. Some require higher end products from top pen manufacturers like Parker and Waterman, whereas others request more affordable advertising pens that have the same level of prominent brand building potential. More and more, companies of all sizes are becoming increasingly eco-conscious, actively working to reduce their carbon footprints and minimize their impact on the environment. At the same time, they still wish to achieve their marketing and business goals.
Thanks to advances and innovations in the construction of writing instruments, 1234 PENS can now confidently offer a wide selection of eco-friendly promo pens that are made from materials consistent with an environmentally-friendly philosophy. This goal is largely achieved in two different ways. First, the line of eco-friendly promotional pens may contain up to 80% recycled materials, actively using materials that may have otherwise ended up in the landfills. Secondly, the eco-friendly line may also feature up to 60% biodegradable materials, ensuring that when the pens have fulfilled their purpose that they also significantly reduce the impact they have on the environment. Indeed, some eco-friendly pens, pencils and highlighters from 1234 PENS utilize up to 99% organic materials.
In addition to the standard imprinting of company information or logo in a choice of sixteen different colors, all promotional pens from the eco-friendly line are also imprinted with the universal recycling symbol. This further demonstrates the company's dedication to the environment. The price per unit is under $2.00 for all pens from this line.
For more information on the eco-friendly selection of promotional pens from 1234 PENS, visit http://www.1234pens.com/eco-friendly-promotional-pens.html.
About 1234 PENS:
In business since 1976, 1234 PENS has helped thousands of clients increase brand awareness and customer loyalty through their high-quality products. 1234 PENS offers pens, pencils and gift sets to suit all budgets, and offers 48-hour delivery on a select number of designs.