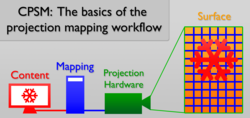 "Part of [the projection mapping] process is demystifying the technology, so that clients can find creativity and inspiration within this new medium." - J Matthew Nix, Project Lead for Chicago Projection Mapping
Chicago, IL (PRWEB) April 02, 2013
Chicago Projection Mapping (CPM), a Chicagoland-based content and 3D projection company, released today a new informative guide entitled "What is Projection Mapping?" The guide, available via ChicagoProjectionMapping.com, is a simple, entertaining, and informative primer to one of the hottest trends in live events and media production.
Written by the expert team behind Chicago Projection Mapping, the guide provides clear and concise answers about the considerations behind projection mapping. "What is Projection Mapping?" uses CPM's unique experience in the live event industry to outline the mapping process, from content development, to surface selection, to final mapping before an event. The guide also provides useful infographics, examples of high-profile projection mapping displays, and easy opportunities to connect to directly with the Chicago Projection Mapping team for more information.
"We want our clients to understand that this is really something incredible that we can bring to their events," said J Matthew Nix, project lead for CPM. "Part of that process is demystifying the technology, so that they can find creativity and inspiration within this new medium."
After recent successes, Chicago Projection Mapping prepares for 2013 with a number of large venue events in development. For inquiries or a free quote, please email info(at)ChicagoProjectionMapping(dot)com.
About Chicago Projection Mapping: Based in Chicago, IL, Chicago Projection Mapping is a full service content creation and 3D projection mapping company, serving the corporate, event, meeting, and convention sectors. For more information, please visit http://www.ChicagoProjectionMapping.com, or call 630-620-0000.