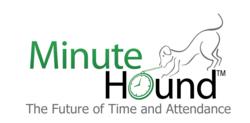 Executives have learned that cloud-based services give much more flexibility in day-to-day operations and reduced, manageable operations costs.
New York, NY (PRWEB) April 25, 2013
MinuteHound, a key provider of advanced time and attendance systems, is helping their customers benefit from the shift towards "cloud computing." This announcement means that their customers can enjoy the lowest operating costs and capital expenses, while using a flexible up-to-date timekeeping system. The system offers biometric technology featuring a paperless time clock, easy management access and alerts and all handled "in the cloud" by MinuteHound's expert IT engineers.
Businesses large and small have been moving to cloud-based services of all kinds. "The cloud" is a popular term for shared, managed services available on an as-needed basis from a trusted and skilled provider. Instead of capital investment in server equipment, hiring IT personnel, performing backups and upgrades, buying software licenses and more, companies purchase the managed capacity they need and pay only for that capacity.
MinuteHound's use of the cloud to deliver their leading time and attendance software means a small professional office can use it as easily as a multi-location chain. As businesses change size or locations, the only thing they need to do is purchase additional low-cost fingerprint scanning devices or move them to new locations. No local IT involvement is necessary as long as there are existing PCs to support the device and web access to the MinuteHound software.
"Scalability" is a technical term associated with the cloud, which means that services and capacity can change almost as if a knob is being turned to the desired setting. This provides flexibility that makes planning and budgeting for MinuteHound a simple matter.
Customers can buy what they need, spending pennies per day per employee and under a hundred dollars for a fingerprint scanner. A decision to use the full-featured service is easy financially, and with included priority shipping, decisions are implemented right away.
Installation, according to the company, is something local personnel can do, with round the clock technical support from MinuteHound if needed. The fingerprint scanner uses an existing PC and operates in the background, not interfering with other tasks such as accounting or POS terminal operation.
MinuteHound cloud-based software uses servers in multiple locations for security of data and constant availability. The software is upgraded on those servers, so customers receive free upgrades as soon as they are available. Their software provides a rich set of reporting, mobile device and email alerts, and other essential time and attendance functions.
Timekeeping data is ready to export to payroll systems in a variety of formats. Payroll personnel receive trusted data with secure fingerprint-based identification and reliable Internet time stamps. Common timecard system problems are eliminated, along with "buddy punching" and other problems that paper-based systems encounter.
Cloud-based services of all kinds make sense for business operations. MinuteHound's offering is a top example.
Executives have learned that cloud-based services give much more flexibility in day-to-day operations and reduced, manageable operations costs. MinuteHound timekeeping is ahead of the curve in the important cloud computing software trend with a system that, using a small fingerprint scanner, operates entirely "in the cloud" at any Internet-accessible location.
MinuteHound Contact Information
Website: http://www.MinuteHound.com
Email: info(at)MinuteHound(dot)com
Phone: (800) 351-7237