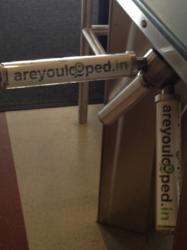 Turnstile AdSleeves - An effective way to reach Boston College fans. - Matt Murrey, Vice President, Fenway Sports Management
Boston, Massachusetts (PRWEB) April 02, 2013
Florida-based, Entry Media, has announced that they have contracted with Fenway Sports Management an Boston College Athletics to add their multi-patented Turnstile AdSleeve Armcovers to Conte Forum. The sponsor is locally based, PXT Payments, which will promote its location-based mobile payment app - looped in.
Entry Media, Inc. is the exclusive developer and distributor of Turnstile Advertising with Turnstile AdSleeve Armcovers, available in the U.S., Canada and select markets around the globe. The multi-patented, low-tech Turnstile AdSleeves effectively reach and influence consumers at high traffic venues with their powerful yet subtle messages. In a world of media overload, Turnstile AdSleeve's low-tech multi-sensory approach disarms consumers insuring awareness at the right time and place to increase brand awareness an influence purchase decisions.
Matt Murrey, Vice President, Boston College Marketing Partnerships at Fenway Sports Management commented, "We are pleased to offer our client, looped in, an effective way to reach Boston College fans utilizing Entry Media's proven Turnstile AdSleeve signage."
Martin Hering, President and Founder of Entry Media an Out of Home Advertising industry veteran states, "We are proud to partner with Fenway Sports Management and Boston College Athletics to bring the Turnstile AdSleeve Armcover signage to Conte Forum. Fans will not be able to miss the powerful yet subtle looped in message which will greet fans at the entry points to Conte Forum."
Entry Media's innovative ad medium has been utilized at numerous high traffic venues throughout the U.S., Canada, an Brazil including the Fenway Park, Citi Field, Petco Park, Soldier Field, The New York City Subway System, Sao Paulo Rail System. Advertisers include Coca-Cola, Chase Bank, Verizon Wireless, Showtime, USA Today, Bank of America, Comcast, Ford and Heineken.
About Entry Media
For over 18 years Entry Media has been specializing in helping companies to stand out with in the ever increasing cluttered market place. Turnstile Advertising with Turnstile AdSleeve Armcovers is a proven effective advertising vehicle that adds a valuable tactile element to advertising campaigns. Studies have shown an increase in brand retention of up to 200% by adding a second human sense to an advertising campaign. For more information contact Entry Media at http://www.EntryMedia.com and 407-678-4446.