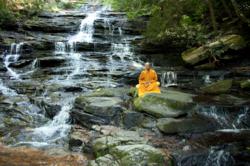 As the torchbearer for Chan/Zen & the Shaolin cultural arts here in the U.S., Master DeRu has devoted his life to helping people and treating patients utilizing these ancient healing arts
Atlanta, GA (PRWEB) April 03, 2013
Beginning at 10:00 AM to 12:30 PM on April 27th, in conjunction with the renowned global event, World Tai Chi Day, Shaolin Institute will conduct Tai Chi & Tai Gong workshops at Pinckneyville Park (Large Pavillion) in Norcross, GA.
For over two hours Saturday, April 27th Shaolin Temple Grand Master Shi Deru, Shaolin Temple Young Master Shi Zhongqin, other high level Shaolin martial arts instructors will lead a pubic audience of enthusiastic, health conscious participants through Tai Chi and Tai Gong exercises aimed at promoting a healthier lifestyle and optimal mind/body wellness. Healthy food and refreshments will be served.
The world-wide Tai Chi and Qi Gong celebration will be celebrated outdoors on the lawn of the Family Pavillion at Pinckneyville Park in Norcross, GA.
The many health and healing benefits of these ancient art forms have been researched and documented by prestigious medical organizations around the world (Harvard University and UCLA are among them) demonstrating a measurable ability to improve and/or resolve the following health conditions:
Arthritis, Asthma, complex autoimmune diseases, anxiety and depression disorders, Diabetes, heart disease, Hypertension, obesity, Rheumatic disease and many more.
The latest research has documented improved outcomes for patients battling cancer, recovering from major surgery, and even traumatic brain injury.
Every participant who attends and registers at Shaolin Institute's free-to-the-public event will receive a World Tai Chi Day T-shirt and will be awarded a two-week gift certificate entitling them to (4) Tai Chi or Tai Gong classes at the private martial arts campus in Norcross, GA.
Similar programs will be conducted by Shaolin Institute Atlanta's two sister campuses in Mobile, AL at Cathedral Square in downtown Mobile, and New Orleans, at Audubon Zoo on St. Charles across from Tulane University. Master Shi Deru's champion martial artist and instructor, Chen Zhe and other top instructors will lead these workshops,
The programs will include:

Chan Meditation (Zen) with Tai Gong Yi Jin
Tai Gong for Natural Qi Healing
Traditional Tai Chi
Zen Nutrition Education
Tai Gong is a combination of the ancient arts of Tai Chi and Qi Gong and is based on ancient Shaolin Chan and medical exercise therapies. Tai Gong focuses on Qi (energy) empowerment, Qi redirection, and body/mind cleansing. Tai Gong unblocks, stimulates, redirects, and balances Qi (energy) along the right path in the meridian channels and within vital organs to stimulate healing and wellness. It promotes calmness of body and mind, opens the Qi flow, re-channels the Qi, mobilizes Qi, and increases energy levels while strengthening organ function, ligaments, and muscles.
About The Teacher:
As the torchbearer for Chan/Zen and the Shaolin cultural and martial arts here in the U.S., Grand Master Shi Deru has devoted his life to helping people and treating patients utilizing these ancient Shaolin healing arts, the secrets of which were passed down from generation to generation at the Shaolin Temple for over 1500 years.
With his doctorate of Traditional Chinese Medicine (TCM) and Master of Science in Exercise Physiology Master Deru has developed and perfected "Tai Gong", his own personal style of powerful mind/body healing that blends Tai Chi, Chinese medical therapy and Qi Gong into a focused, energy channel specific exercise program tailored to individual health/recovery needs.
His success in leading patients to improved health and a better quality of life utilizing these ancient arts in the U.S has earned him the acclaim of many students and patients.
Grand Master Shi Deru (Shawn Liu) is a 31st generation descendant, Grand Master of the Shaolin Temple in the Henan province of China, and, Headmaster of Shaolin Institute. His work has been documented and reported on by 3 channels of CCTV networks (China Central TV International Networks) in China and around the globe.
CCTV networks have more than 10 combined episodes of documentaries on Grand Master Shi DeRu, his work, and his achievements since he came to the U.S. in 1999.
He has appeared on the cover of two international martial arts magazines and has been featured in dozens of articles published in numerous international magazines. Grand Master Shi Deru has appeared on CBS, NBC and Fox affiliates over 30 times. Shaolin Institute instructors are committed to life-long learning in Shaolin cultural and martial arts at the direction of Shaolin Temple Grand Master Shi Deru.
On Saturday, April 27th Grand Master Shi DeRu and all three Shaolin Institute campuses extend their invitations to local families to come out and be a dynamic part of this life-altering, mind/body wellness phenomenon.
Program Timeline:
9:30 AM Pre-Meditation Breathing Warm Up With Master Shi Zhongqin, Young Master of the Shaolin Temple
10:00 AM Chan Meditation With Grand Master Shi DeRu, Shi Zhongqin, and Augustine Mulia
10:30 AM Demonstration (Luo Han, Tai Chi Fan/Tai Chi Chen/Yang Styles Weapons)
11:00 AM First Part of Tai Gong Flex and Tai Chi (3 sets or 6 times/movement) With Master Shi Zhongqin and Augustine Mulia
11:30 AM Meditation Work Shop & Tai Gong - Collect Qi from Heaven and Earth
12:00 PM Tai Gong Work Shop Press Hands Down & Emerge from the Sea, Open Qi, Open Wings Like Sea Birds, Cultivating Twin Birds Flying in Synchronization, Motion in Orbit, Circles Qi in the Universe
11:00 AM Workshop 2 - Simple Tai Chi and Tai Chi traditional with Augustine Mulia & Master Shi Zhongqin