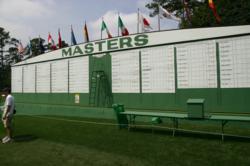 'Whilst watching the Masters on television is memorable, being at the US Masters in person may be the most unforgettable experience of your life'
(PRWEB UK) 5 April 2013
Sadly, getting a ticket for the Masters is not as simple as calling Augusta National Golf Club or visiting the Ticketmaster website, however according to Tailormade Luxury Golf Holidays, that does not mean that it is impossible.
Every year, the Augusta National operates a ticket ballot where the lucky few will 'win' tickets to one of the first three practice rounds of the tournament as well as the hugely enjoyable Par 3 competition. The price per ticket is just $50 and on Practice Days spectators are permitted to take photographs and videos – something which is not allowed during the tournament proper. To enter the ballot just visit http://www.masters.com
An alternative way to guarantee your place at the Masters is to use a UK tour operator such as Tailormade Luxury Golf Holidays. Tailormade have been taking clients to the Masters for over 10 years and have a range of packages based both in Augusta and at a wonderful golf resort called Reynolds Plantation.
Tailormade's Masters Golf packages start from £1895 per person and full details can be found at http://www.luxurygolfholiday.co.uk.
The 2013 Masters Tournament will also see the opening of a new on-site corporate hospitality facility called Berckman's Place. The exact details about this hospitality pavilion are unknown, however it thought that it will feature 16 restaurants, a clubhouse and two putting greens.
Berckmans Place will initially be open to members of the Augusta National, however it is thought that packages may be available on the general market for the 2014 tournament. Packages are to be sold on a weekly basis but as you would expect it does not come cheaply with the price estimated to be around $6,000 per person.
The 2013 Masters Tournament takes place between the 11 – 14th April and full coverage of the event can be seen on Sky Sports.