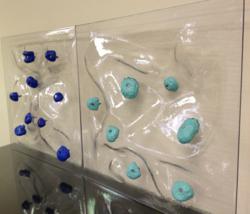 The 3-D surface makes a big difference. It greatly enhances the climbing experience and provides a truer climbing event - Russell Moy, CEO - Pyramide, USA
Frederick, MD (PRWEB) April 05, 2013
Pyramide USA Inc., the designer and manufacturer of AquaClimb poolside climbing walls, announces the new 3-D Krystal Ice panel. This unique development transforms an otherwise flat polycarbonate sheet into a contoured three dimensional climbing surface and increases functionality, because the panels can be flipped over and rotated in any direction to completely re-configure the climbing wall. Click here to see Krystal Ice wall image.
Part of the challenge and fun of rock climbing is the search for random hand and foot holds. This requires the climber to utilize problem solving skills as well as physical effort. As a climber Pyramide's CEO, Russell Moy understands, "The 3-D surface makes a big difference. It greatly enhances the climbing experience and provides a truer climbing event."
The AquaClimb Krystal was introduced in 2012 due to a demand for a clear pool climbing wall, but flat panels limit options for users and aquatic managers. "Customers appreciated the clear panels but also wanted the signature shapes and re-configurability of our fiberglass Ascent and Canyon models," Mr. Moy explained. The first 3-D Krystal Ice panels are now ready for production.
The major benefits of the new panels are the more realistic activity for climbers and also greater functionality for facility managers. Bob Aker the Assistant Director of the JCC Milwaukee who currently has the Ascent 3-D fiberglass panels on his wall said, "We rotated the panels and the whole wall will have a new feel this summer. We may be doing this each year from now on." By changing the position and orientation of panels and holds, aquatic managers can keep the AquaClimb feature fresh and interesting for returning visitors.
For more information regarding AquaClimb and other beneficial aquatic topics visit the AquaClimb blog by clicking here.
About AquaClimb
AquaClimb has been the industry leader in aquatic climbing walls since its inception in 2004, bringing active aquatic recreation to over 450 facilities in North America and abroad. To learn about all the AquaClimb models visit http://www.aquaclimb.com.
If you would like more information or to schedule an interview with CEO, Russell Moy contact Patrick Zaharoff at (240) 446-9800. pat(at)aquaclimb(dot)com