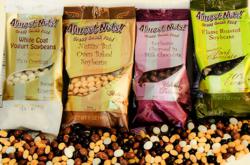 Denmark, WI (PRWEB) April 25, 2013
Almost Nuts, Roasted-Soybean Pioneers, releases information on a new offer they have for shop owners, grocery store owners, and any business interested in bringing a delicious healthy snack to their customers.
They are letting business owners interested in carrying Almost Nuts in their store receive a complimentary bag to test. When asked about this new offer, they stated that they know once someone tries their product it will be love at first bite. Having tasted what the competitors have to offer, they are confident that their product will stand up to the ultimate test....the taste test.
Recently, with the increased buzz on food education, and a global push for Non-GMO products, the Kornowske's believe that store owners understand their customers are looking for a product like Almost Nuts. When they learn that Almost Nuts can pass the taste test, they will be delighted to also know the health benefits they offer. Almost Nuts is a non-GMO, calcium rich, gluten-free, and heart healthy snack.
Darren Kornowske, founder and President of Almost Nuts! states, " Our family has been working for years to perfect a tasty snack that is healthy for families. In order to get our product in the hands of consumers all over the country, we decided to let the product speak for itself. We feel that business owners are the key to spreading the word about our product."