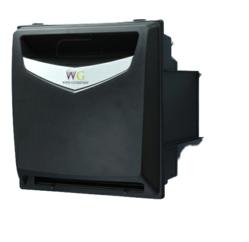 Our humidifiers feature sleek, modern designs to match today's wine cellar lifestyle and are designed to deliver superior performance and reliability, to ensure that our clients' fine wine collection ages at its finest
Syracuse, NY (PRWEB) April 01, 2013
Wine Guardian, the world leader in commercial grade wine cellar cooling systems for homes, restaurants and commercial storage facilities, has introduced two new, completely redesigned humidifier models to its product portfolio. These humidifiers—specifically designed for wine cellars—are easy to install and operate, as either freestanding or integrated units. "Our humidifiers feature sleek, modern designs to match today's wine cellar lifestyle and are designed to deliver superior performance and reliability, to ensure that our clients' fine wine collection ages at its finest," said Michael Militi, Wine Guardian division manager.
The freestanding model--which may be used with both Wine Guardian's Through-the-Wall cooling system and any competitive wine cooling systems--can be mounted through-the-wall, within the racking or be surface mounted using specially designed mounting brackets within the wine room for installation flexibility. It uses 15-volt power and includes a sealed, plug-in transformer and lead cord to allow the unit to operate independently of the cellar cooling system.
Integrated units mount to either side of Wine Guardian's ducted or ducted split systems. They use the same Wine Guardian remote interface for control and readout and their 24-volt power is sourced directly from the Wine Guardian cooling system so no separate power source is required.
All models feature digital controls to sense and control the amount of moisture that needs to be added to the cellar. These work off of Wine Guardian's remote indicator so there is no need for a separate controller. The evaporative drip pad system includes a removable, cleanable pad with access cover for easy maintenance. Wine Guardian humidifiers, made in the USA, are of commercial grade and lightweight, corrosion-resistant materials and components.
To facilitate installation, operation and maintenance, no tools are required for service access to the humidifier pad and there is easy access to utility connections, power, water and drain.
Wine Guardian products are distributed internationally. "Our representatives can help determine which model, capacity and options are optimal for individual wine cellar design and storage needs," Militi said.
Wine Guardian is a registered trademark of Air Innovations, which manufactures Wine Guardian products in New York State. Wine Guardian products are backed by a two-year warranty and factory service hotline team.
For more information on Wine Guardian products or to locate a distributor, visit http://www.WineGuardian.com, call 800-825-3268 in the U.S. and Canada (international + 1 315 452-7407), email info(at)wineguardian(dot)com or follow #WineGuardian on Twitter.
About Wine Guardian
Wine Guardian, a division of Air Innovations, is a world leader in wine preservation. Regardless of the size of the space or number of bottles being conditioned, Wine Guardian systems deliver superior performance in temperature and humidity to ensure quiet and perfect conditions for each wine collection, whether installed in commercial or residential cellars. Wine Guardian offers multiple installation configurations, including ducted, ducted split and through-the-wall systems—all with numerous options and sensing, monitoring and alarm capabilities. Wine Guardian systems incorporate cooling, heating, filtration, ducting, internal safety devices and high or low ambient control as integrated solutions. Humidification can be built into the system at the time of order or added separately. For more information or to find an authorized Wine Guardian distributor, visit http://www.WineGuardian.com or call 800-825-3268 (international + 1 315-452-7407).
About Air Innovations
Established in 1986, Air Innovations designs, tests and manufactures specialized air conditioning and environmental control systems for a wide variety of industrial and residential applications. Equipment is produced in a 40,000-square-foot, state-of-the-art facility in Syracuse, N.Y. The company's brands include: CleanroomSystems® custom-designed environmental control systems/air conditioning units for cleanrooms and other critical environments sold under the trade names HEPAir® and AdvancAir®; Wine Guardian® wine cooling systems for environmental control of residential and commercial wine cellars; Floratech® refrigerated floral display cases for supermarkets and discount retailers; IsolationAir® portable contamination control unit for health care facilities and emergency preparedness; and, HEPAirX® ventilating room air purifiers. Air Innovations is one of the fastest growing, privately held manufacturers in America. For more information about Air Innovations, visit http://www.AirInnovations.com or call 800-825-3268 (international + 1 315-452-7400).