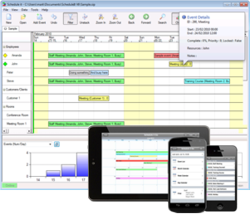 Siemens have seen huge improvements since we've implemented 'Schedule it'."
Wakefield, UK (PRWEB UK) 2 April 2013
If you are planning employees, rooms, training courses, equipment or any type of resource then 'Schedule it' is a great tool to help any business reduce costs and maximise utilisation allowing time to be focused on core business operations.
Resource scheduling software must be simple, quick, and cost effective to use and if its not make planning easier, improving resource utilisation, saving time and money, a new scheduling solution is needed.
With the latest release of 'Schedule it' all the essential features to make planning easier are now available. Warning and preventing double and over booking, only allowing resources that are qualified to perform the tasks being planning and a drag and drop interface that's intuitive to use and easy to follow allows rapid creation and modifications of existing schedules.
The ability to print reports and view many utilisation statistics can aid with future planing and help improve current processes. Sharing schedules over a network, the Internet, via email alerts and shared calendars ensures all users, and everybody in the organisation, is fully informed of all planned work.
'Schedule it' supply scheduling software globally but have also been active users of their own software for over 10 years. Rather than being a just a software development company they are also a very demanding user of their own tools which gives them a big advantage over many other software development companies and software tools you may have tried.
By offering their software tools free to try everybody can see all the features and benefits in the organisation, at your own pace, and with no cost.
Many of the 'Most Admired' Fortune Global 500 companies including Cisco, Microsoft, IBM, Shell, Fujitsu, Siemens and L-3 Communications trust their data and resource planning with 'Schedule it' and talking about 'Schedule it', Siemens said "The program is working like a dream for us. It has helped us to massively improve the necessary record keeping as well as all the planning. The business has seen huge improvements since we've implemented it."
Download and try the desktop and cloud solutions from 'Schedule it' completely free. For more information and to download the software visit http://www.scheduleit.co.uk