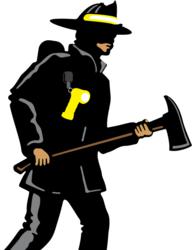 This new firefighter helmet light can be used by the global firefighting and rescue community. We're excited to unveil it at FDIC.
Vista, CA (PRWEB) April 11, 2013
FoxFury Lighting Solutions will be releasing a new series of LED lights for first responders at the upcoming Fire Department Instructors Conference (FDIC) in Indianapolis, IN. This new light will be unveiled at 1:23 P.M. EDT on April 25 in booth #5457 in the Indiana Convention Center.
FoxFury has been developing LED lighting tools (including helmet lights, right angle flashlights and rechargeable area lights) built specifically for firefighters and first responders since 2003. This new personal lighting system has been in development for over 18 months and was designed specifically for firefighters, rescue personnel and industrial safety professionals. It will be bright, versatile and offer a unique easy to use feature, which will represent a FoxFury first. As for durability, this new light will be waterproof, impact resistant and will meet NFPA fire resistant requirements.
This light will be unveiled at 1:23 P.M. EDT on Thursday, April 25th in FoxFury's booth #5457. FDIC attendees (including dealers, media and Fire-Rescue-EMS personnel) will be able to experience this product during the three day show. For those unable to attend FDIC, this light will be formally announced on Friday, April 26th.
"Customers have been asking us for this type of light for a while. We're excited to unveil it at FDIC and finally offer it to emergency rescue personnel," said Mario Cugini, CEO of FoxFury.
About FoxFury Lighting Solutions:
FoxFury Lighting Solutions creates unique and cutting edge lighting products that reflect the needs of our customers, who demand quality and dependability. FoxFury is best known for its niche LED headlamps designed for specific markets including Fire, Industrial, Hazardous Area, Law Enforcement, Forensics and Recreational. FoxFury was formed in 2003 and operates out of Vista, CA USA. You can follow FoxFury on Twitter @foxfuryled.
About FDIC:
FDIC, the world's largest firefighter training conference and exhibition, is held at the Indiana Convention Center and Lucas Oil Stadium from April 25-27, 2013. It attracts firefighters from around the world to train, network and learn from the industry's most elite instructors. FDIC features fire house H.O.T. (Hands-On Training) courses, classroom sessions, and an expo showcasing thousands of firefighting equipment and products. You can follow FDIC on Twitter @fdic.