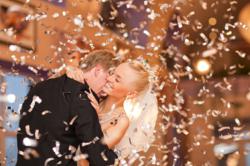 New York, NY (PRWEB) April 30, 2013
From dancing-on-a-cloud to a confetti cannon shooting streamers after the first dance, Seward Park Tech reports that wedding special effects appear to be making a comeback this year. "Most Brides that contact us have attended several weddings so they have a pretty good idea of what they want at their reception" says Kieffer Ramirez, President and Lighting Designer at Seward Park Tech, a New York DJ and lighting company. "Three years ago, special effects were only found on Broadway, this year however, we are asked for some type of effect at almost every wedding."
According to Seward Park Tech, the most popular special effect so far this year is called "dancing-on-a-cloud," where dry-ice is used with hot water in order to create a low-lying fog effect - a cloud! Bubbles and an artificial Snowfall fall are tied in second-place, while confetti cannons come in at third "Most venues would not allow confetti cannons because of the cleanup," adds Kieffer, "One thing we always suggest is confirming with the venue first prior to booking the special effects, and obtain the clearance in writing."
"It's all about creating memories, if your guests talk about your wedding 10 years down the road, you know they had a blast. Special effects are not for everyone, and may not fit every wedding theme, but it sure makes an impact on your guests."
Seward Park Tech is a DJ and lighting company servicing the Tri-State area. Their marquee DJs have years of experience spinning at the most elite night-clubs around the country, and the lighting designers have designed the lighting and special-effects for numerous movies and theater productions around New York City. The lighting, special effects and music are combined to bring the magic of theater into weddings and other special events. Founded in 2010, Seward Park Tech has come a long way, earning dozens of 5-star reviews across the board and winning prestigious entertainment awards such as 'The Knot's Best of Weddings' and 'Wedding Wire's Bride's Choice Award.' Seward Park Tech is also a member of the very exclusive Style Me Pretty's Little Black Book. For more information, please visit http://www.your.dj.