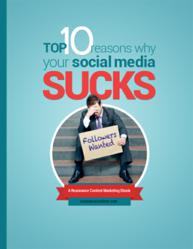 Among businesses that have given up on social media, I saw the same mistakes being made over and over again -- mistakes that can be easily corrected. That's what inspired me to write this book.
Houston, TX (PRWEB) April 02, 2013
Today Resonance Content Marketing announced the release of its second e-book, provocatively titled "Top 10 Reasons Why Your Social Media Sucks."
"So many businesses are giving up on social media because it's 'not working' for them," notes Resonance President and Owner Rachel Parker. "More often than not, the reason for the failure is not that social media doesn't work—it's that key errors are being made that are preventing success."
The book presents 10 of the most common mistakes businesses make in social media, plus helpful "turnaround tips" for each situation.
The contents of "Top 10 Reasons Why Your Social Media Sucks" are firmly grounded in Parker's real-world experience. "As I went around and talked to marketers and business owners, so many of them said, 'Yeah, we tried social media, and it didn't work,'" she recalls. "I heard it so often that I got curious and started looking at what these businesses were actually doing. The same mistakes came up over and over again—mistakes that were sabotaging their efforts—and that's what inspired me to write this book."
The book is a follow-up to Resonance's first publication, "Top 10 Myths About Social Media for Business," published in 2012. "It's been a very organic progression," notes Parker. "The first book addressed reasons why some businesses shy away from social media. This new book takes on reasons why they may not be getting results—and shows them how to get on the right track."
"Top 10 Reasons Why Your Social Media Sucks" is available as a free download on the Resonance website.
About Resonance
Founded in 2010, Houston-based Resonance Content Marketing helps companies attract and retain business through engaging content delivered through social media, e-newsletters, blogs, and other venues. Resonance enhances its clients' marketing strategies by developing comprehensive content marketing plans, writing and publishing content on their behalf, and measuring the results to ensure consistent progress.