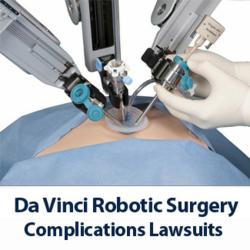 If you or a loved one has been injured by a da Vinci surgical robot contact Wright & Schulte LLC, a leading medical device injury law firm today at 1-888-365-2602 or visit www.yourlegalhelp.com
Columbus OH (PRWEB) April 01, 2013
Wright & Schulte has learned that Intuitive Surgical has just lost its bid to get a Da Vinci robotic surgery complications lawsuit filed in Washington State dismissed. Attorneys for Intuitive Surgical tried to claim in court that the company had no obligation to train doctors on how to use the Da Vinci robot per Washington's state law and federal regulations, but the judge presiding over this case rejected Intuitive Surgical's petition and stated that the company is, in fact, required to properly train doctors on how to use Da Vinci robots. The judge also stated that the plaintiff, specifically the family of the man who died allegedly due to Da Vinci robotic surgery complications, would be allowed to try to seek damages for the "harm allegedly caused by the improper marketing of the Da Vinci surgical system."
According to court documents for this case (Estate of Fred E. Taylor v. Intuitive Surgical, 09-2-03136-5, Superior Court, State of Washington, Kitsap County), the plaintiff alleges that one of its family members had undergone prostate removal via Da Vinci robotic surgery in 2008. The operating physician, who had only performed two pervious Da Vinci robotic surgeries under the supervision of more experienced practitioners, was performing the prostate removal with the Da Vinci robot for the first time without supervision. The complaint goes on to allege that the operating physician made a number of mistakes during the unsupervised Da Vinci robotic surgery, causing the patient to sustain severe injuries, including a 1-inch tear to his rectum, kidney failure, permanent incontinence and brain damage. The patient ultimately died from these Da Vinci robotic surgery injuries.
(http://www.bloomberg.com/news/2013-03-26/intuitive-surgical-loses-bid-to-throw-out-robot-lawsuit.html)
Wright & Schulte, LLC is experienced in defending the rights of those who have sustained serious injuries after using defective products and dangerous drugs. Our dedicated Da Vinci robotic surgery attorneys are experienced at successfully going up against large corporations and ensuring the rights of those injured. We encourage those who believe they have sustained Da Vinci robotic surgery complications to speak with our knowledgeable lawyers about their legal rights and possibly a Da Vinci robotic surgery lawsuit consultation by visiting yourlegalhelp.com or by calling 1-800-399-0795.
To date, the alleged problems with Da Vinci robotic surgery complications have led to at least 4,600 injuries and at least 80 deaths, according to the Food and Drug Administration (FDA). (http://www.citronresearch.com/wp-content/uploads/2013/01/Intuitive-Surgical-part-two-final.pdf) Some of the reported injuries, such as those reported in this case, have included perforation to internal organs, internal bleeding, organ failure and sepsis.
Claims regarding the lack of proper training for doctors operating with Da Vinci robots have been the source of heated debates regarding the risk of serious Da Vinci robotic surgery complications these devices allegedly pose for patients. In fact, there is currently no industry standard for what constitutes adequate training before surgeons are considered experienced enough to use Da Vinci robots to operate on patients. (http://www.seattletimes.com/html/localnews/2018631542_robot08m.html) Furthermore, the Da Vinci robotic surgery training provided by Intuitive Surgical, Inc. generally involves between two and four days of training with these devices by using them to operate on cadavers (some of which are animal cadavers); such minimal training flouts the opinions of some medical professionals, who have estimated that it takes hundreds of surgeries working with Da Vinci robots before a surgeon is truly proficient with these devices. (online.wsj.com/article/SB10001424052702304703104575173952145907526.html)
About Wright & Schulte LLC And FREE Da Vinci Robotic Surgery Lawsuit Case Evaluations
Wright & Schulte LLC, an experienced personal injury firm, is dedicated to the belief that America's legal system should work for the people. Every day, the attorneys of Wright & Schulte LLC stand up for the rights of people who have been injured or wronged and fight tirelessly to ensure that even the world's most powerful corporations take responsibility for their actions. If you're looking for a law firm that will guarantee the aggressive and personal representation you deserve, please do not hesitate to contact Wright & Schulte LLC today. FREE Da Vinci robotic surgery lawsuit case evaluations are available through yourlegalhelp.com or by calling 1-800-399-0795.
Contact:
Wright & Schulte LLC
812 East National Road
Vandalia, Ohio 45377
1-800-399-0795
http://www.yourlegalhelp.com