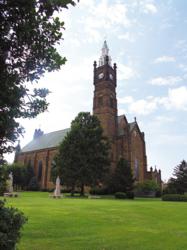 Dubois County, IN (PRWEB) April 01, 2013
Located in the beautiful rolling hills of Southern Indiana, enjoy a scenic tour viewing historic churches that are the backbones to the small towns scattered throughout Dubois County. The trail is comprised of a non-denominational collection of churches that have been standing on their original foundation for at least 100 years. Some are small wood structured churches withstanding the test of time while others are magnificent cathedral-like churches with beautiful stained glass windows, marble altars, and lavish woodworking where parishioners attend weekly worship services.
The Trail of Faith was created by a team in the 2012 Dubois County Leadership Academy, a professional development course encouraging employees throughout Dubois County to grow and contribute to their communities. The idea was to create a lasting legacy that could be enjoyed by people of all ages and showcase and promote Dubois County. The trail is attractable not only to people of religious beliefs, but also to those that enjoy historical buildings that exhibit impressive architectural designs.
Some of the most impressive churches along the trail include St. Joseph Church located in Jasper & Monastery Immaculate Conception in Ferdinand, both listed on the Register of Historic Places.
St. Joseph Church, also known as the "Faithful Watchman over Jasper" is an 1880 Romanesque Old World-style church that took 40 years to build. The tower stands 235 feet tall, designed from the tower that houses Big Ben in London while the height from the floor to the apex of the groined naves totals 90 feet. The interior showcases large German stained-glass windows, Austrian-designed and imported mosaics built with 50 million stones, and Italian marble altars. Mass is celebrated daily for the 5,000 parishioners that take great pride in the history of the church.
The Monastery Immaculate Conception is home to the second-largest communities of Benedictine women in the country and was designated an Official Project of Save America's Treasures. Also known as the "Castle on the Hill", the recently restored Romanesque domed church rises majestically over the town of Ferdinand and welcomes visitors from all over. Find 89 angels throughout the church with 16 depicted in the stained glass windows surrounding the dome that sits 87 feet from the floor and 32 and a half feet in diameter.
Other churches along the trail include; The Anderson Valley Christian Church, Annunciation of the Blessed Virgin Mary Parish (St. Mary Catholic Church), Christian Church of Duff, First Baptist Church, Hill Church: Emmanuel Evangelical Lutheran Church, Ireland Methodist Church, Shiloh Church, Lemmon Presbyterian Church, Salem United Church of Christ, St. Anthony of Padua Catholic Church, St. Ferdinand Catholic Church, St. Henry Catholic Church, St. James Lutheran Church, St. Mary's Catholic Church, St. Paul's United Church of Christ, and Maple Grove United Methodist Church. Honorable mentions include; First Mass Site in Ferdinand, Indiana, St. Paul's Kirche, St. Meinrad Archabbey, Monte Cassino Chapel, and Sacred Heart of Jesus Catholic Church.
For more information about the Trail of Faith, contact the Dubois County Visitors Center at 800-968-4578 or visit http://www.visitduboiscounty.com .